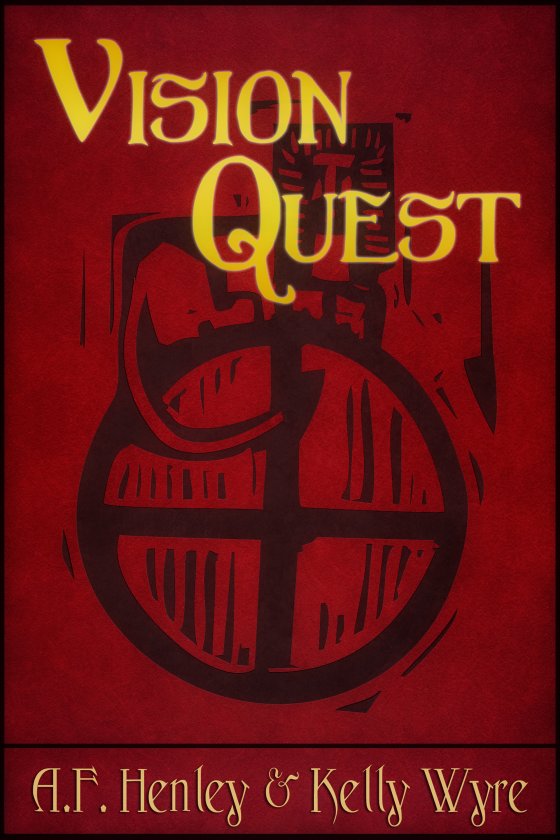 OUT NOW! Vision Quest by Kelly Wyre and A.F. Henley
When Arik Beltrán checks into a hotel on business, he expects the tedium of unfamiliar beds and boring meetings. He expects to meet a financial client and be home before the solitude of being a stranger in a mundane land becomes too much to bear.
Instead Arik finds Blaze: a mysterious man with an inner fire that lives up to the name. Nothing in Arik's life, not his deranged father nor even his faint brushes with the magic only Arik can see in the woven web of life could have prepared Arik for the man in the hotel lobby who casually invites Arik to room 1109 for late night … Well, anything at all.
Blaze Zaituc, on the other hand, knows exactly who Arik is and what Arik needs: Blaze. He has crossed land and sea to find the man who has appeared in Blaze's Visions as the next target in the Quest that comprises Blaze's life. Arik is someone for whom the Universe has plans, and Blaze must make sure Arik complies. Or else.
Unaware of the lives and risks hanging in the balance, Arik untangles himself from the sheets in the silent hours of the morning. He wonders if he will find the door to 1109 open and waiting. He's not a risk taker, but this one time, just this once, maybe he'll take a chance …
And seal both his and Blaze's destinies forever.

START READING TODAY!
Download the free ebook today!
---