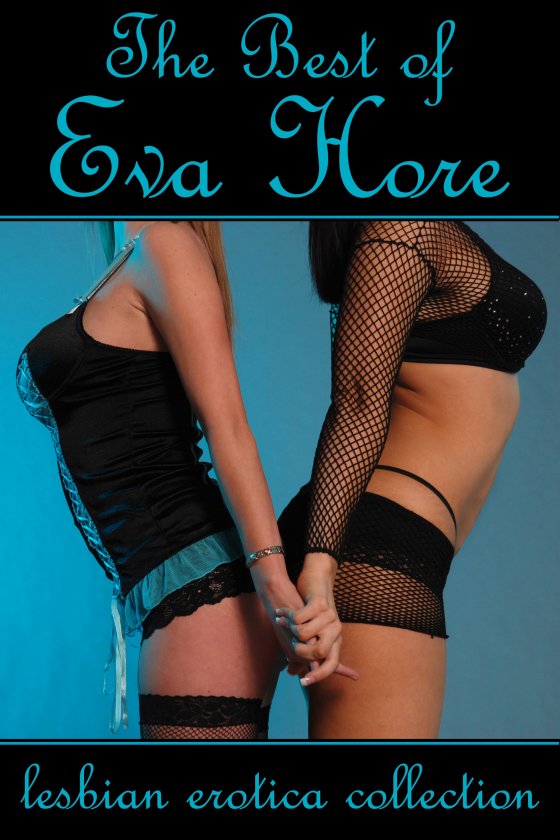 The Best of Eva Hore Box Set by Eva Hore is now available!
Blurb:
Hot and horny women find love, longing, and lust in this collection of intense lesbian erotica by multi-published author Eva Hore. From solo masturbation fantasies to reconnecting with old flames to torrid threesomes, there's something in this collection for any lesbian lover!
Sheila's the only female lawyer at her firm, but when she goes out with the guys for drinks, it's she the waitress hooks up with in the restroom. A college art class takes a sexy turn for the nude model when she stays behind for a private session in. When a woman recounts a spanking scene she's witnessed to a friend of hers, they're eager to give it a try. And Sophie finds it hard to lose her inhibitions, so her neighbour Julie decides to teach Sophie how to please herself.
These are just a sample of the twelve quick and dirty stories in this box set. If you love women who love women, this unabashedly explicit book is for you!
Contains the stories: Girlfriends, My Tattoo, Safe Sex, Want to Be Spanked?, For the Love of Melissa, Discovering Myself, Our Neighbour Helen, My Girlfriend the Lap Dancer, In the Name of Art, Visiting Downunder, My Friend the Phone Sex Worker, and Lesson for the Tutor.
EXCERPT FROM "Our Neighbour Helen"
I knocked again. Hearing no reply I tried the door, surprised it opened. Helen was a schoolteacher, quite prim and proper and always on top of security. She'd had a close call with one of her students almost being abducted and since then had made it a rule to always be on guard.
So it was with trepidation I entered, unsure of invading her space as opposed to being concerned for her well-being. I did yell out a hello which no one replied to and, with a quick glance around the kitchen to make sure all was in order, I was just about to leave the bag of lemons on the table when I heard faint murmuring noises coming from the direction of Helen's bedroom.
I knew I should leave but I was intrigued as to who was there with her. I'd been her neighbour for two years and, as far as I knew, she'd never been on a date. She was quite reserved — not rude, just not forthcoming about her own life. Hearing muffled noises as I moved toward the passageway, my curiosity got the better of me and I quietly snuck on.
As I tiptoed toward her room, I hoped none of the floorboards creaked. I saw the door ajar and, with my heart in my throat, I eased closer, hoping whoever was inside wouldn't see me peeking. I just had to look — one quick look and back I'd go. I realized though the voices I heard actually came from the television.
My heart beat madly. I hoped Helen wouldn't see me spying, wouldn't catch me doing this.
"Oh, yes, yes," I heard Helen moan.
I could tell she had a porno on and must admit was quite taken aback by it. I had no idea she'd be into that sort of thing. Kinky little devil. In bed with someone and watching porn. It appeared my quiet neighbour had another side to her. Now I was even more intrigued.
"Shit. Relax, relax," she said. Then, a few moments later, "Hmm, you like what you see."
I could only hear her voice and was dying to see what they were doing. Who was in there with her? Holding my breath, I quickly peeked around the door. There, in the centre of the bed, was Helen. She lay back against huge white pillows, her dark hair framing her beautiful face, and she was totally alone.
I had to look twice around the room to make sure there was definitely no one else with her. On the television were two women, and Helen was masturbating, legs open, desperately trying to achieve orgasm.
I pulled back, astounded by what I saw. What did it mean, her watching two women? I hoped — no, prayed — the reason I was thinking was obvious, but how would I know for sure?
"Go on. Look at my pussy. I know how much you want it, but you can't have it. You can't even touch it, you can only look," she said.
I peeked in again. Definitely no one there. She was acting out a fantasy.
I eased my head back out and stood still, flat against the wall. I was less than a metre from her, with just the wall separating us. I was dying to see her, all of her, her open thighs, her pussy, her body. I tingled all over. I wasn't sure if it was from the fear of being found out or because I desperately wanted to make love to her.
---