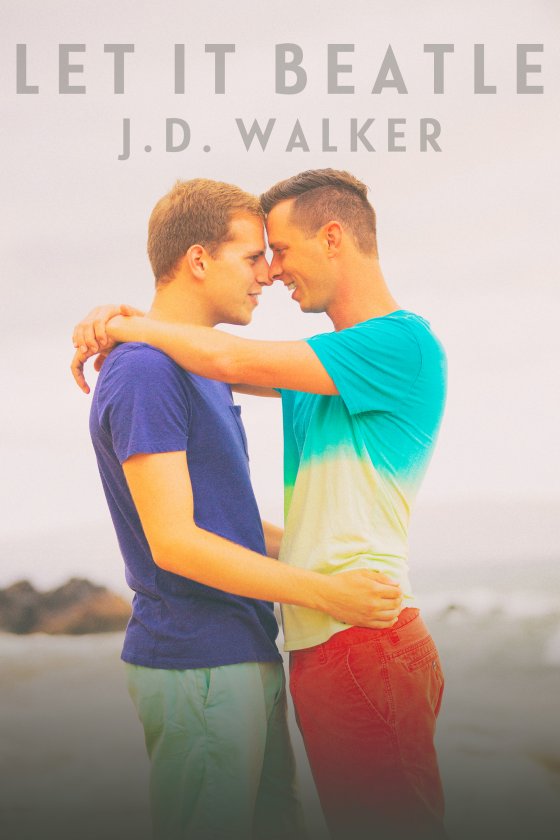 Let It Beatle Box Set by J.D. Walker is now available!
Blurb:
The titles of songs by the Beatles inspired the stories in this anthology, and there's just something about sand, water, and sunshine that brings everything together. For the twelve men in these tales, living in a small town near the ocean is the perfect setting for romance.
From an oblivious motel owner to a man obsessed with pastries, these men struggle to find their way to love against a backdrop of well-meaning friends, personal demons, and ocean spray. Persistence is the key, however, as the town sheriff, bookstore proprietor, and all the rest will discover.
All in all, there's only one thing they can do: Let It Beatle.
Contains the stories:
Love, Love Me Dude: Tory Cuthbert is shocked when Wheeler Ridley, a man from his past, arrives at his motel. Meanwhile, there's Maury Landrum — handsome and willing, yet Tory can't seem to take the next step. When Wheeler hits on Tory without recognizing him, Tory reveals all. But Wheeler remembers things differently. Then Maury resigns. Tory has to act quickly before he loses what he never knew he had, forever.
Happiness Is a Warm Bum: Austin Murray owns a bookstore. He loves to walk on the beach at sun-up in search of something unique in the sand to add to his collection. One winter's day, Murphy Vickers, a world-weary drifter, roars into Austin's life looking for temporary work. Though a hard worker, Murphy is surly and taciturn. Austin has to break down Murphy's barriers, and by doing so, maybe he'll stay a while. Or forever.
Can't Buy His Love: Wheeler Ridley is attracted to relationship-phobic daycare owner, Gregory Wang. Which is funny, since Wheeler usually avoids commitment like the plague. Wheeler despairs of making any progress, until he saves a child's life. Suddenly, Gregory sees him with new eyes. Together, they work to forge a new beginning for both of them: one man learning how to open his heart, the other, how to let love in.
Norwegian Woody: Woodrow "Woody" Anker grew up with the Zumpanos, and he's in love with the eldest son, town Sheriff Rafe Zumpano. Problem is, Rafe is an alcoholic in denial and Woody wants to know why. When he finds out the truth, Woody doesn't know how to move beyond all the lies. It takes a punch in the face, a hard kiss and even harder words to get these men to a place of trust. And love, maybe.
Crumbs Together: Serge Zumpano is obsessed with René Glass, owner of Crumbs Together. As addicted as he is to the man and his decadent creations, Serge sees René as way out of his league. René won't let that stop him, however, and does his best to break down Serge's barriers. It takes pastries and cornering Serge at his cabin to get him to admit his feelings and stop hiding from what they have between them.
He's So Heavy: One look at Thorn Blackstone and Bill Cascade wants him for his own. Problem is, Thorn is trouble on two legs and Bill can recognize someone going downhill, fast. Hell, he's been there. Bill's offer of help is rebuffed by Thorn, but when he shows up on Bill's doorstep, he doesn't hesitate to help. Why? Thorn is the love of his life and Bill would do anything for him. Even let him go, if he had to.
All My Loving: "A collection of snippets that give a glimpse into the daily lives of the men in J.D. Walker's best-selling series, Let It Beatle. Whether it's to get married — or not; celebrate a promotion; write a song of love; or discover the love of painting again, love is all you need.
START READING TODAY!