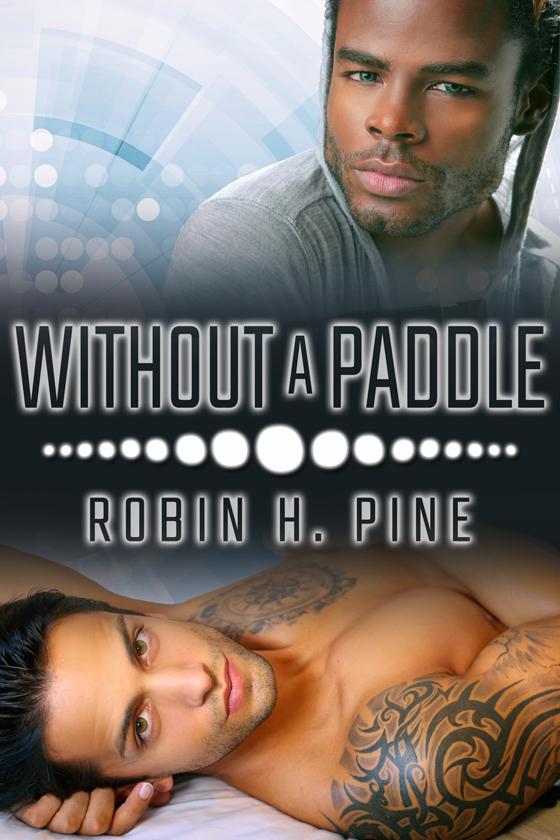 OUT NOW! Without a Paddle by Robin H. Pine
In the near future, Zach works as an advocate for an influential family in the Central Territories. His job is to keep his clients out of jail, but they make it hard for him if they can't keep their mouths shut. He manages to convince his clients not to talk, but as he's getting ready to leave the penal satellite, an escaping prisoner takes him hostage. To his surprise, Zach recognizes the man.
Aron has to consider his next step carefully and quickly. He has to decide if he wants to go for the obvious and predictable, leave the penal satellite as everyone expects him to, or the unexpected but dangerous, stay and wait out the search team. But a familiar face from his days at the Academy makes his choice for him and he decides he's going to take a hostage.
There are a lot of obstacles between Aron and Zach, from Zach's loneliness but fear of commitment to Aron's lack of communication. And if that wasn't enough, their behavior is unfamiliar and they realize they might not be the same people they were in the Academy. Why isn't Zach working for the Marshal's Office as his moral code seemed to dictate? Is Aron more than an escaped prisoner? Will they manage to find a way to find those answers without also destroying what they've got?

START READING TODAY!
---