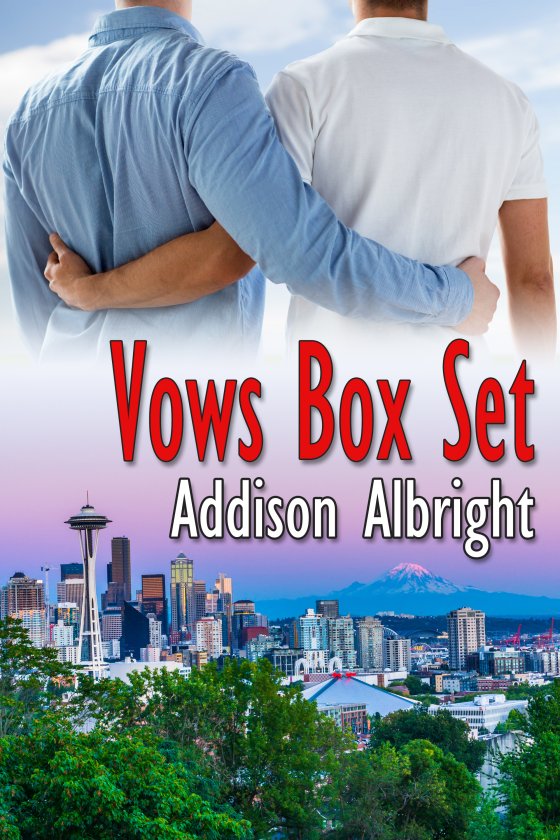 Vows Box Set by Addison Albright is now available!
Blurb:
Join Henry and Sam and an appealing supporting cast as they ride a rollercoaster of emotions when their lives are derailed before coming back on track, leaving Nash as collateral damage, but Nash takes an unusual path to his own HEA. Contains the stories:
'Til Death Do Us Part: Henry and Sam Miller-Greene are living the dream, but their worlds are shattered when Henry's plane crashes and he's presumed dead. But Henry survives undetected on a remote, small, and insignificant island. Will Sam and Henry's love be able to survive, as well? When Henry and Sam face an accidental estrangement, and Henry is assumed dead, can their love endure the trials of one's fight for survival, and the other's new love interest? When Henry is rescued, will Sam be able to put aside his new love when he reunites with Henry?
From This Day Forward: Henry and Sam are enjoying life after Henry's rescue. With their nightmare separation behind them, Henry and Sam are anxious to renew both the intensity of their former intimacies — now hampered by having a curious and still apprehensive child sharing their home — and their commitment to one another. Will they be able to move their love forward now that they are together again?
Okay, Then: Sam and Henry's first date/encounter is mentioned in flashback in 'Til Death Do Us Part, but this short story fleshes it out. Relive the moment they first connect while on a research trip in Honiara in the Solomon Islands.
To Love and To Cherish: Jilted by his fiancé Sam just weeks before their wedding, Nash Marino's outlook on life in general, and love in particular, is jaded. Will Nash find love again? Of course he will. Will he go about it in the usual way? Now that's another story entirely. When Nash's marriage of convenience scheme is muddied by notions of love after a memory reboot, will their plans go awry, or will Nash's new outlook on life be just what the doctor ordered?
START READING TODAY!
---