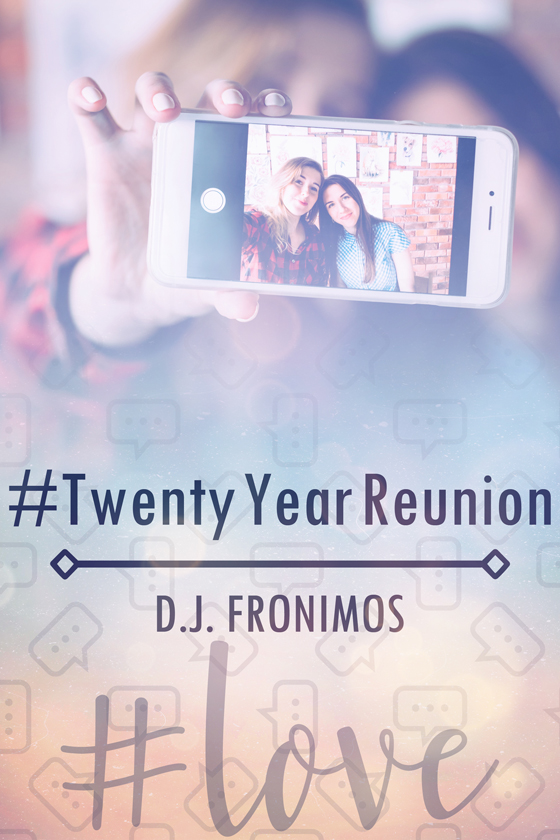 OUT NOW! #TwentyYearReunion by D.J. Fronimos
Single and lonely, Meredith Tanner has spent her life caring for others, while at the same time resenting it. Irritated when a former classmate contacts her asking for help planning their twenty-year reunion, Meredith gives in when she discovers the classmate is the girl she once had a crush on.
Back in school Jennifer Stockton was popular and confident, everything Meredith wasn't. Twenty years and life in another city haven't changed Meredith much. Even though she has worked as a nurse for many years, she still feels inadequate and puts her own needs last in order to make others like her. Maybe this time things will be different.
Excited by the chance to work with fabulous Jen, Meredith throws herself into the reunion project, and she and Jen have a great time reconnecting online. When Jen drops a hint about a previous partner, Meredith is optimistic. But everything changes when Meredith suggests video chat. Puzzled by Jen's refusal, Meredith gets frustrated when Jen not only evades all attempts of a virtual meeting, but backs off completely.
At the reunion, she's shocked to find out just how much Jen has changed and abandons all hope of rekindling old feelings. But something unexpected happens that shakes both women to the core. Is it too late for Meredith to reevaluate her opinion? Even if she manages to, does Jen want her to revive their twenty-year-old crush?

START READING TODAY!
---