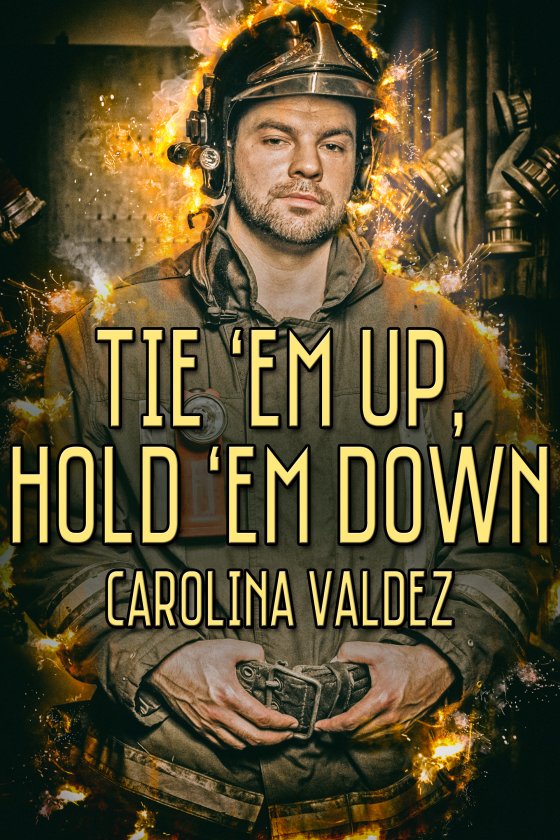 Tie 'Em Up, Hold 'Em Down by Carolina Valdez is now available!
Blurb:
They knew it was dangerous to be gay in the all-male, macho world of firefighting, but when Dane Garrison and Robert "Bear" Barrington are stranded in a shack and forced to sleep together to keep warm, the barriers to expressing their love and satisfying their hidden lust for each other break down. Terrified for them both of being outed, Bear shuts Dane out of his life after their brief time together, as if their passion had never existed.
Dane, however, wants this man in his life forever. More aggressive and secure, he fights against Bear's resistance to their relationship.
How Dane will win, or if he will win, will seal their fate forever …
EXCERPT:

Celeste's heavy perfume, perfect for her gypsy looks, enveloped him as his lips brushed his friend's soft cheek in return. The familiar scent was like a balm to his troubled soul. He felt his spirits lift. He was safe here. He could be himself.
In celebration of his having reached the rank of fire captain, they drank champagne from crystal flutes while sitting nude in the spa off her living room. White candles flickered in the room, while below them the lights of Vegas twinkled like a salacious Disneyland. The pungent scent of white magnolias floating in low glass vases tickled his nose. Beethoven played softly in the background.
The warm jets pummeled the knots in his muscles. His soft dick floated an inch above his groin, and the bubbling waters teased Celeste's generous breasts, her dark nipples riding with their motion. While he recognized that most men and some lesbians would love to fondle and tease them, Bear had no desire to touch them. To him they were just breasts. Nice breasts, and he was happy for Celeste that she had them, but they held no appeal for him. The thought of sucking them brought a mild queasiness.
As they toweled off, she said, "The voudrais is open tonight. Would you like to go down? My other friends are already there. I waited for you."
Je voudrais … I want. The rooms where sexual encounters occurred in deep shadow with participants masked for secrecy. Adulterous, gay, lesbian, ménage, trans, bondage…whatever your fancy, from the darkest wish of the darkest heart to just plain consensual sex, but always with a safe word that meant "Stop."
It had been a long time. It fit his mood. He nodded and slipped into the thick, terry cloth robe she always provided. When he told her his preference, she asked "RACK or SSC?"
"SSC."
She dialed an in-house phone and spoke softly. They rode the elevator in her suite down together.
As they entered the dark foyer of the voudrais, they each pulled a narrow band of a mask with slits for seeing across their eyes from a large metal bowl and put them on.
"Third door on the right," she directed Bear and drifted off to her own choice.
His bare feet sank into luxurious black carpeting where a trail of minuscule lights led to the various rooms. He entered his, following the lights to the dark form of a comfortable couch. He replaced his mask with one without slits, then sat and spread his arms across the couch, letting his head drop back to rest, enjoying what the spa had done for him.
The room was warm and fragrant with an exotic scent he couldn't identify. He'd almost dozed off when he heard a crack as if from a whip and a voice said, "You've been naughty, haven't you?" The voice was hard, accusative.
At the sound of the whip, a sexual shudder rippled down his spine. Bear responded, thinking of how almost daily he shunned the man he loved. If it hurt Dane as much as it did him, he deserved what would happen next. "Naughty. And mean."
"Stand. You must be punished."
His core tightened as sensations shot through to his cock and it began to thicken. Guessing at the routine, for he'd never done bondage before, Bear answered, "Only a little punishment, disciplinarian."
The robe was pulled from his back, and he stood naked. "Kneel, head on the ground."
Grateful for the soft carpet where his head rested, he felt a foot in a soft boot press on the back of his neck, not too hard but enough to indicate serious business.
"Do you submit?
"I do."
"Stand up!" A light collar with a chain attached to it was fastened around his neck. For a moment he felt an almost claustrophobic panic.
A snap sounded as a flail slapped his right butt cheek. It stung but didn't cut. The excitement caused his cock to rise to full arousal. A hand wrapped around it and pumped. His knees weakened at the touch.
"Such a biggie, this one." When Bear sighed over the pleasuring hand, the hand released him and he felt the flail again. "I forbid you to climax until I allow it. We must tame it, mustn't we? On your knees, chest to the floor."
---