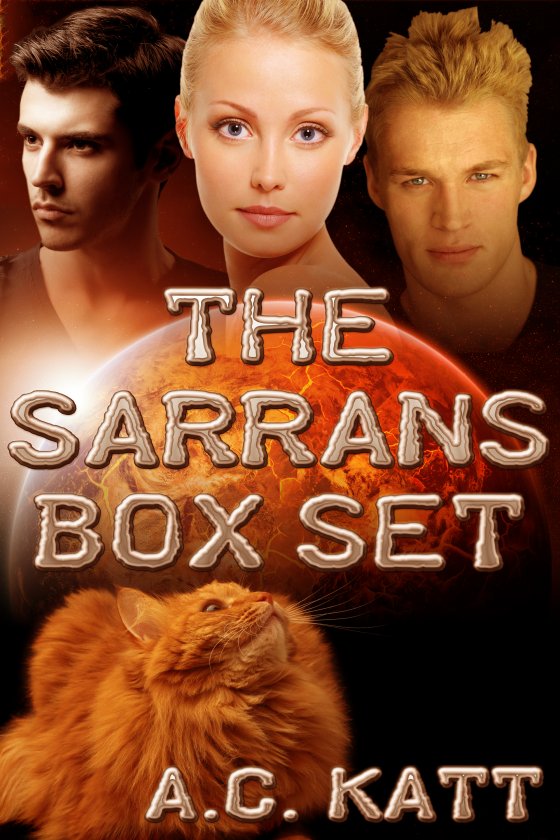 The Sarrans Box Set by A.C. Katt is now available!
Blurb:
Four best-selling MMF science fiction romance novels by popular author A.C. Katt now available in one box set! Contains the stories:
The Sarran Plague: The Sarran Warriors came home from victory to genocide. The enemy had unleashed a virus fatal to all fertile fems on the Home Planet. The Sarrans mated in Triad; without fems, civilization ended. For two cycles they searched the Galaxy for a genetically compatible vessel. They found Earth.
Living with Syn: Syn Sinclair is one of the women taken from Earth to Sarran to replenish the fem population. As soon as her WarriorPair bring her to their home, she works to gain their respect. Her insights as a psychologist combined with her new Psy powers might help her Warriors find out who the traitors are in the Sarran government and devise a plan to capture them.
The Sarrans Return: The Sarrans return for cats, coffee, chocolate, and fems. Mark and Juraens have another mission: to rescue abused women. One of them turns out to be their own fem, Sara.
The Sarrans Senator: When Senator Samuel Johnson comes to Sarran, he's surprised to bond with Tarin, one of Sarran's top engineers. Sam's love gives him a new lease on life. Together they bond with Meg, a talented woman who fled to Sarran like so many Earth women looking for a new life. Things are settling down between Sarran and Earth, but when the Zyptz attack both planets, their mutual dependence becomes evident.
START READING TODAY!
---