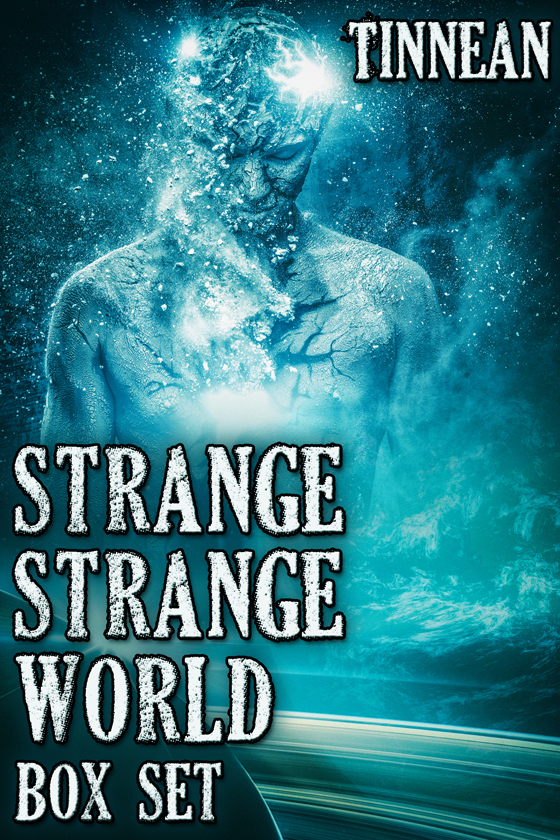 OUT NOW! Strange Strange World Box Set by Tinnean
Imagine an earth just a bit different from ours. In this world normals unknowingly share the planet with all manner of beings, including vampyres, shapeshifters, aliens, and ancient gods. What would happen if ordinary people learned of their existence? These stories tell those tales.
Contains the novels:
Destiny's End: It's the early part of the 20th century, and Warrick Synclaire, a baronet's son, is in love with his best friend, Thomas Smythe. After they part, Warrick is bitten by a werewolf, although he doesn't turn immediately. Events keep them separated, they find other lovers, but Warrick can't forget Thomas. He returns home and his life unravels under the full moon. Will any love be able to save him?
The Most Loved of All: Years after they first met, Roddy Sayer and Thomas Fortescue-Smythe cross paths again in Egypt and renew their friendship. But the danger that lurked in the hot desert follows them home to England. Can they save each other from the threat of a millennia-old curse?
Lagoon of Dreams: Scientist David Knight has been plagued by dreams his entire life, only to have no memory of them when he awakens. Now his dreams are drawing him to the Amazon, where an unidentifiable clawed hand has been found. Theories abound, and an expedition is put together to explore the stretch of the Amazon leading to the Lagoon of Dreams. Will what they find once they arrive there give them an answer?
Rainbows in Your Eyes: Andrew Dorincourt has the blood of powerful shifters in his veins. However, he can hide what he is. Da'ric is the son of an extraterrestrial and a Terran. His physical characteristics, rainbow-colored eyes and scale-patterned skin, make it difficult for him to conceal his heritage. They meet when Da' is kidnapped and Drew helps him escape. What will the future hold for these two unusual men?
More by all Mores: In an effort to gain his father's notice, St. John Ashford sets his sights on Andrew Dorincourt, a man for whom the Viscount has nothing but disdain. However, St. John finds himself more attracted to Andrew's brother, Robin. When Robin realizes Drew wants someone else, he decides to go after St. John. St. John might be attracted to Robin, but he'll be damned if he's anyone's second choice.
They Come By Night: Tyrell Small has always felt different. On his sixteenth birthday, he learns exactly how different. He's a sabor, a being vampyres need in order to survive. Ty decides he's not having any of that, but while attempting to run away, he meets Adam Dasani, a vampyre who'll one day feed from him. Others also want Ty, however, and it's up to Adam to keep the young sabor safe. The question is, can he?
START READING TODAY!
---