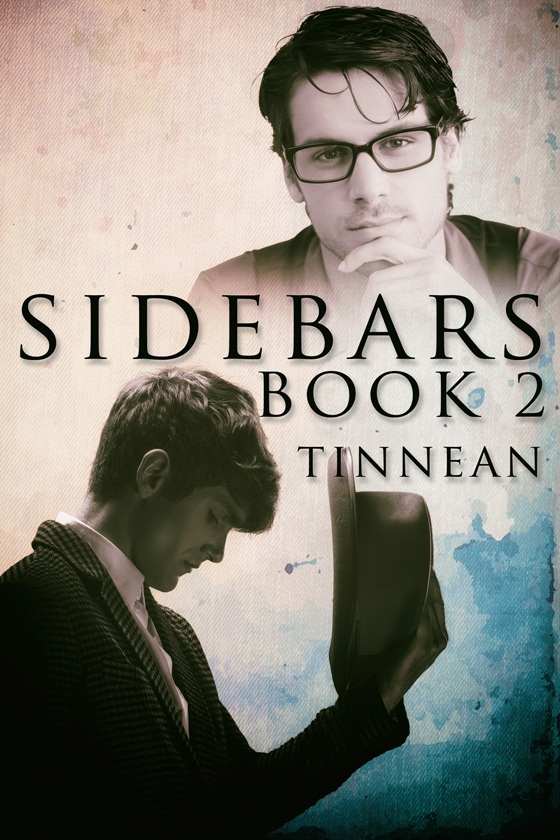 OUT NOW! Sidebars Book 2 by Tinnean
Sidebars are stories set in the Spy vs. Spook/Mann of My Dreams universe. The stories in this book are told from three different points of view: William Matheson's, covering the majority of the events from 2002 to 2009, including his work at the WBIS and his relationship with Theo Bascopolis, a former rent boy.
Contains the stories:
Is It You?: Wills meets Theo Bascopolis and wonders if he could be the one.
Sway: Wills goes along with Theo's assumption that he can't dance.
This Simple Phrase: Wills and Theo spend their first Christmas together.
Goodbye to Love: Wills returns home to the apartment he shares with Theo to find his lover has left him. Wills intends to discover why.
To Be Loved: Wills has asked Theo to marry him, and they celebrate their first Easter as engaged men in Cambridge with Wills's family.
P.S. I Love You: Wills and Theo get married and welcome a new addition to their little family.
Dedicated to the One I Love: In 2004, same-sex marriage becomes legal in Massachusetts. For their first anniversary, Wills decides to take advantage of that and takes Theo to Cambridge so they can be legally married.
Happy Anniversary, Baby Redux: It's Mark and Quinn's anniversary, and Mark muses about how they got there.
The Very Best Christmas Ever (So Far): Pat Mulcahy, aka the Antichrist, has turned his life around and now lives with the Mathesons. On the trip to Washington, he meets someone who just might make this the best Christmas ever for him.
When Complications Arrive at Your Door: This is the missing epilogue from Complications. Rebecca Goddard, daughter of the former WBIS doctor, has decided making herself scarce after Mark Vincent discovered her part in the events that went down in 2004 is a good idea. Five years later, she's no longer looking over her shoulder, but maybe she should be.
Trick or Treat: It's Halloween, and Wills and Theo take their children trick or treating.
Happy Birthday, Baby Redux: Mark Vincent has a birthday coming up, but his husband is out of town and won't be there to celebrate with him. In addition, it's snowing.
START READING TODAY!
---