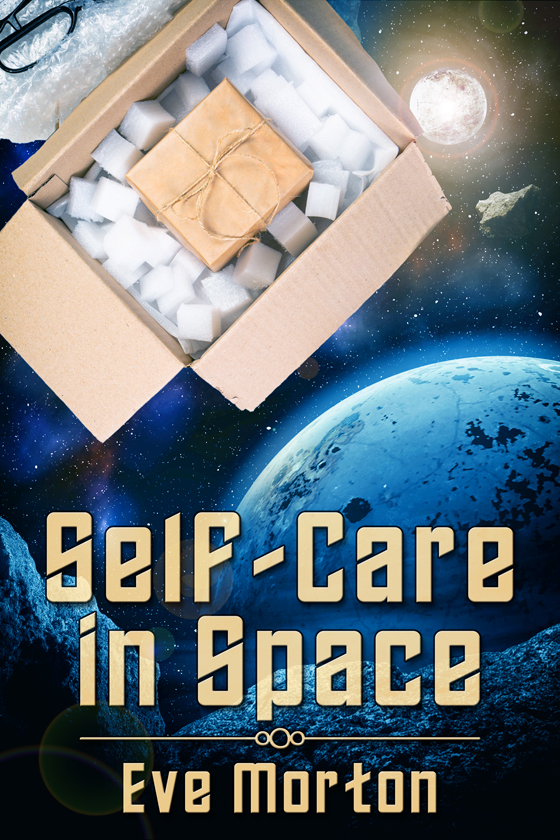 OUT NOW! Self-Care in Space by Eve Morton
Roland Ruiz isn't very good at taking time for himself. When he loses a big intergalactic trafficking case at his legal firm, his boss tells him to take the Vacation Station travel liner and visit the vacation moons of Jupiter. What should be fun ends up feeling more like exile, especially as Roland is left unimpressed by the first moon he visits and is snubbed by the locals. Everything changes when a beautiful scientist working on Io shows him the dynamic chemicals that go into synthetic snow, which keeps the vacation ski lodge up and running in the most drastic of space climates.
Martha Carpenter has been working hard her entire life and with very little credit. It's only when her ex wins a prestigious grant, however, that she begins to feel resentment creep into her daily life of making weather conditions for some of the Jupiter's vacation moons. In an effort to stay positive, she turns to her old routine of self-care, and soon meets trans man and disgraced lawyer Roland, who could benefit from her many lessons.
As Roland and Martha grow closer, she must decide if being invisible in the workplace is worth the cost to her self-esteem, while Roland must reconcile his failure with his hopeful future. Together they both realize it is far better to be recognized by one person than to be rewarded by many, and that recovery is just as thrilling as discovery.

START READING TODAY!
---