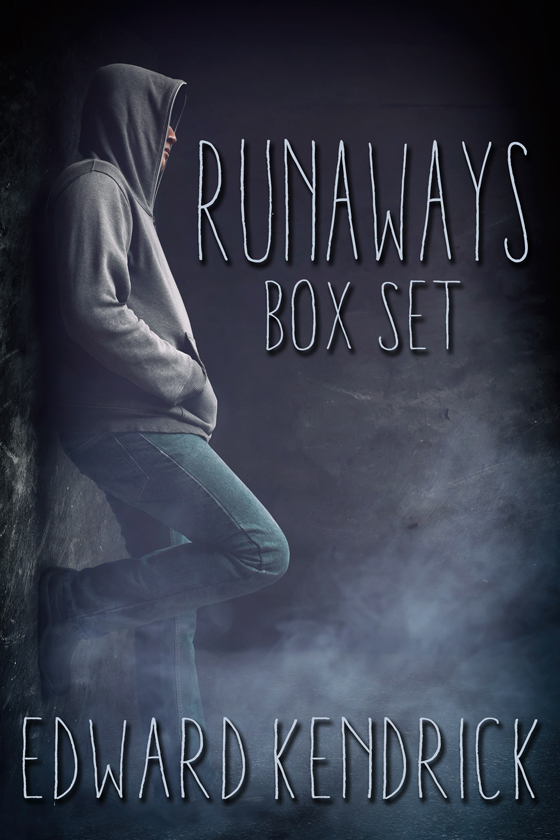 OUT NOW! Runaways Box Set by Edward Kendrick
Four stories of gay young men surviving on the streets. Contains the stories:
Surviving: Brothers Terry and Kel, on the run from their abusive father, hook up with a trio of Denver street kids who teach them how to survive. Can the budding relationship between Terry and Rudy, the leader of the trio, last through the problems that ensue — including Kel's attempted kidnapping and the loss of the squat the group has been calling home? Perhaps, with the help of a local pastor, it will.
Strays in the Time of COVID: Thrown out of his home, Guy ends up on the streets as COVID ravages the country. Soon, he's adopted by a dog and a kitten. He meets three homeless teens — Mack, Tone, and Dani, who names the kitten Ghost, and the dog Shadow. When Guy learns that, like him, Mack and Tone are gay, he hopes the attraction he and Tone begin to feel for each other can survive the life they're forced to live.
The Encampment: Homeless and in danger, Davie accepts an offer to live at the Encampment, a mountain site run by Maddox, and Ran. Among the residents is Vin, who befriends Davie. Davie finds out there is more to the place than it seems when he and Vin are sent to stop slavers preying on homeless teens. Things get interesting as the two of them try to survive while dealing with their attraction for each other.
The Runaway and the Enforcer: Beau is an enforcer who goes into hiding after he refuses to follow his boss's orders and harm a rival's kid. Rick, an eighteen-year-old denizen of the streets, witnesses Beau killing one of the men searching for him. Rather than kill Rick, as well, Beau befriends him — an act he may come to regret, when Rick convinces Beau to take him along, when Beau goes on the run after taking out his boss.
START READING TODAY!
---