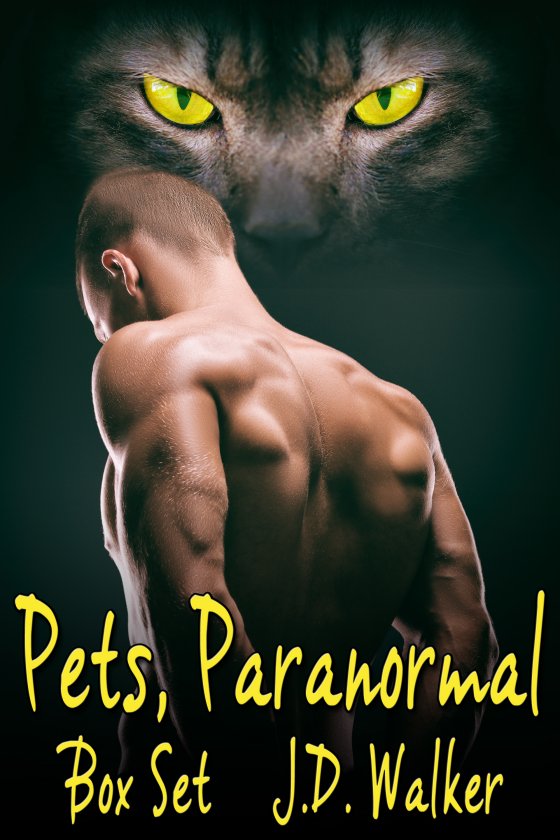 OUT NOW! Pets, Paranormal Box Set by J.D. Walker
What would you do for the love of a pet? Or to win the heart of a skittish paranormal? These five stories by best-selling M/M romance author J.D. Walker will show you what happens when the heart stops at nothing to get what it wants. Contains the stories:
All a Steer Can Do Is Try: Clifford Ames is overworked by his boss and desperately needs a change. Temporary escape comes in the form of a wedding invitation he gladly accepts. When Clifford arrives at the resort with his dog, Bambi, he encounters Jetson Briscoe, who turns him inside out. But an emergency business call at the resort has Clifford wondering whether enough is enough, and it's time for a change — with Jetson.
Of Paws and Pet Rocks: Barry Dunning is a lonely pet groomer and painter of rocks. He's been burned badly by an ex-boyfriend who left him with tons of debt. Then Sheldon Svenson, the owner of the animal shelter where Barry volunteers on weekends, asks him out on a dat…ted Ben, Monty has to figure out how to make amends. He has his work cut out for him, but a little romance could go a long way.
To Catch His Mate: Felix Cotter is an insurance investigator, and a mixed breed shifter. He's hot on the trail of a thief who smells like mate. When Felix comes face to face with white panther shifter Tyler Panterone, the feeling of belonging grows even stronger. Tyler is being forced to steal against his will, and Felix is determined to help him. In fact, he wants to keep him safe and at his side forever.
To Love His Mate: Tyler Panterone is worried. Someone from his lover's past has come to call and Tyler is terrified that Felix will be taken away from him. It makes for a tense few days as Thanksgiving Day looms, and then another shifter appears out of the blue. With the kids causing mischief and the house to manage, Tyler is at his wit's end. Will this Thanksgiving bring everyone together or tear them apart?
START READING TODAY!
---