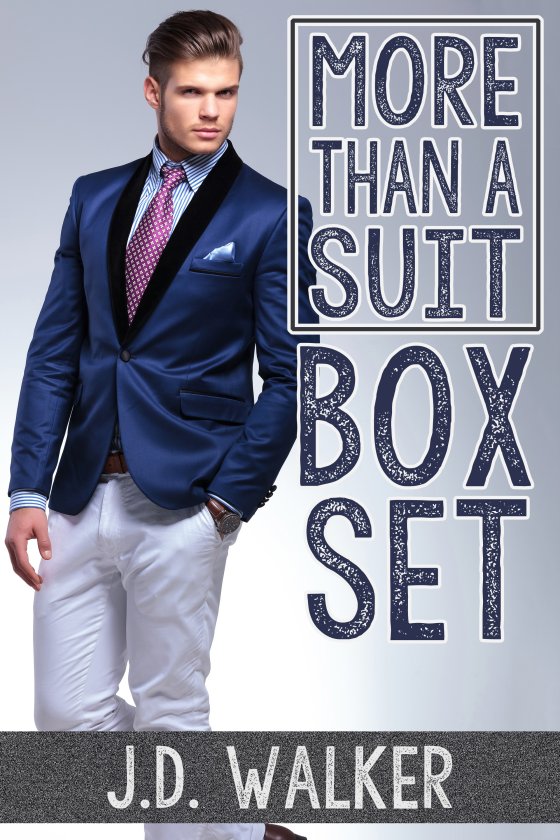 More Than a Suit Box Set by J.D. Walker is now available!
Blurb:
From the pen of best-selling author J.D. Walker come four gay erotic romances that prove the only thing sexier than a man in a suit is what happens once he's out of it. These hot and heavy stories are together for the first time in one box set that will leave you wanting more!
Contains the stories:
More Than a Suit: Tobie: Tobie Mendez wants to make VP in five years and nothing will distract him from his goal. Except, perhaps, Malcolm Jones, the hunky new head of Acquisitions. Malcolm wants to train Tobie for a senior position, but he doesn't anticipate the attraction that flares between them. Is the risk to their jobs worth taking a chance on each other?
More Than a Suit: John: John DeWitt loves men and sex, as well as his job with EnerGen International. Wei Pearce, club owner and judgmental prick extraordinaire, thinks John's just a brainless slut who'll do anything to get it up the ass. John has to prove to Wei he's wrong about him, and when he does, sparks fly in the best way possible.
More Than a Suit: Ross: Ross Haven shares the news about his internship with EnerGen International, as well as the fact he's gay, with his family. Unfortunately Ross is thrown out of the house. Then he meets Lee Pearce. He doesn't know the first thing about love, but he's willing to learn, if he can have Lee.
Romancing the Bouncer: Ben Pachowski is a bouncer at Throwbacks. Bass player Monty Mabuse wants Ben, but won't do anything but flirt. Monty plays dirty to get in Ben's pants, and it backfires. Can Monty figure out how to make amends? He has his work cut out for him, but a little romance could go a long way.
EXCERPT FROM "More Than a Suit: Ross"
"So, if a guy comes over to you while you're standing in the dairy section, and asks if you know where the cheddar is? He's trying to pick you up."
"That's ridiculous."
"Sure, but it works. You can either play along, or point to the cheddar and leave."
"Honestly? That's so –" But Lee was on a roll.
"Then there's the guy who'll bump into your cart, just to get your attention." We were now walking through the cereal aisle.
"A lot of guys will just cut to the chase and ask for your number."
"How do they know I'm gay?"
"Sometimes, it's just a vibe. A lot of guys pick up on it. I did, when I was introduced to you. I thought you were so adorable, all red in the face and stammering your name."
"Way to un-man me, friend."
"You have that whole tall, muscly, redhead thing going on, without the ego. Huge turn-on." Really?
"How do I know a guy's gay, aside from when he asks for my number?"
"Go with your gut, and be prepared to be spectacularly wrong, sometimes. Now, just because a guy gives you his number, doesn't mean you have to call him. You're under no obligation whatsoever to do so, unless you feel a connection of some sort."
We were now in the meat section. Two guys stood at the glass display, very close together. The cart beside them was being filled up with a lot of chicken, steak and ribs.
I whispered to Lee as we strode by. "A couple?"
"Likely, or they're just really good friends who're comfortable sharing their personal space." He snickered softly.
We got to the ice cream section and stopped. Rhys liked mint chocolate chip, so at the very least, I could make the shopping expedition legitimate. I got two cartons from the freezer.
As we walked to the self-checkout area, Lee asked. "So are you getting the idea now?"
"Yeah, I guess. Seems complicated just to meet someone."
"It doesn't have to be, but sometimes, it is. It could be the other guy who makes it difficult." I paid for the ice cream and we went out to the parking lot.
Lee drove us back to my apartment and walked me to my door. I turned to look at him.
"I appreciate all the advice today. And thanks for listening earlier when I talked about my family."
"It's not a hardship, Ross. I like you, and I want to get to know you better. Hey!" He got that cute excited look on his face that I adored. "How about you meet me at Throwbacks for Trivia Night this Tuesday? It won't be as much of a meat market, and at least you'll be able to scope out the guys with half a brain, not just hot bods. What d'ya say?"
"Sure, can't hurt."
"Awesome! This will so rock!" Lee embraced me. He fit perfectly in my arms, as I knew he would. I hugged him to me as closely as I dared, surreptitiously sniffing his hair — he smelled like peaches — then let him go.
He stood on his tiptoes and kissed my cheek and waved goodbye. "See you tomorrow, Ross."
"Bye." I looked forward to our next outing, even though it was ostensibly to get me a date. It would give me more time in Lee's company outside of work, and that was fine with me.
---