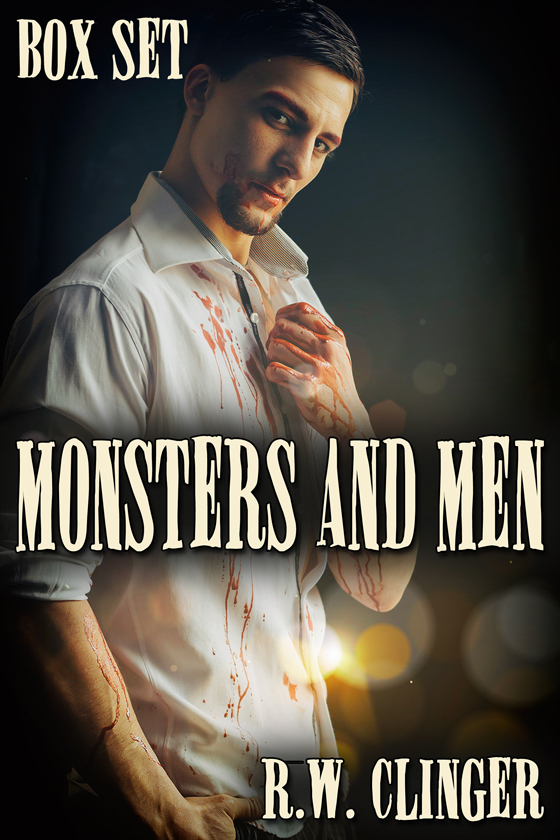 OUT NOW! Monsters and Men Box Set by R.W. Clinger
Be afraid. Be very afraid. Then again, you might feel that you're falling in love with that sexy vampire or legendary warlock. Love is love, right? This box set by R.W. Clinger explores romantic Monsters and Men. Four tales of the haunting and unthinkable. Strange and dark relationships that can be considered obscure, dangerous, and filled with nothing less than deathly desire.
Contains the stories:
Vonderlust: Antiques dealer Liam goes to retrieve a valuable painting from the foreboding Hyde Manor. His trepidations disappear when he meets the sexy caretaker. During his stay, strange things happen. But when he attempts to leave, he's confronted by Lord Hyde. Will Liam live another day to tell his vampire tale of Hyde Manor, or die like the many men before him?
The 13th Warlock: Sawyer Black is sent to Bitter, PA, to gather details of a mysterious disappearance. With the help of local pub owner Harry, he uncovers a warlock coven and learns of Wilhelm Ravenrock, the strange man who lives in the haunted woods. As the facts continue to build, Sawyer becomes Harry's attraction. Will he still be Harry's sexual interest after the dark secrets of Bitter are disclosed?
Something Purple this Way Comes: Strange things are happening in the countryside near Lake Erie. Creepy and ominous and … purple things. Can three men and their lovers live through the night to share their strange tales of terror? Maybe. Maybe not. Only daylight will bring answers after the purple night of alien terror.
Blood on My Hands: Vampire Jonathon Splinter seeks out young men to feed. As Halloween approaches, he devises a plan for his next hunt with the help of his mortal lover Toby. But someone has witnessed one of his bloody hunts and is blackmailing him. With Toby's help, the two devise a plan to hunt and feed on the man. But on the evening of the planned murder, Jonathon Splinter's bloody life will change forever.
START READING TODAY!
---