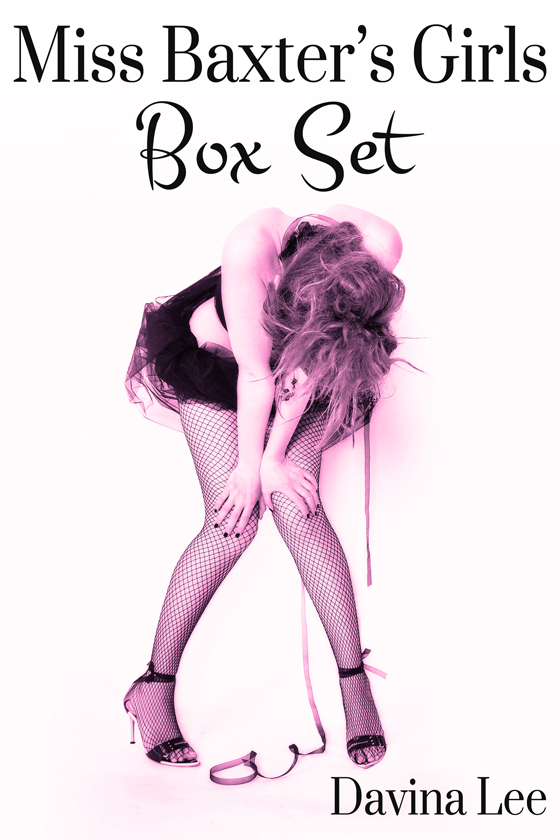 OUT NOW! Miss Baxter's Girls Box Set by Davina Lee
All six books in Davina Lee's best-selling series, Miss Baxter's Girls. Hilary Baxter is a retired dominatrix who runs a boarding house for young women. Equal parts loving mother and strict disciplinarian, her hope is to help each of her boarders live up to her full potential. Contains the stories:
Book 1: Julie the Pianist: When new boarder Julie falls for Miss Baxter's sexy assistant, Anise, it's lust at first sight. And when Anise's shirt rides up, exposing her bruises, Julie enters another world where she learns that not everything that hurts is necessarily bad.
Book 2: Anise the Snowboarder: When her first boarder, Anise, turns out to be a bit of a handful, Miss Baxter finds herself falling back on old techniques to keep Anise on the straight and narrow. The two mix like oil and water. Harsh words are spoken, apologies are made, and a new special therapy regime is agreed upon.
Book 3: Chef Margo: Her new chef, Margo, quickly develops a serious crush on Miss Baxter's assistant, the sexy snowboarder Anise Dale. While the two are getting up to all sorts of kinky fun, Margo gets a job offer from a famous restaurant in a city far away. Will great sex enough to keep to women with career aspirations together?
Book 4: Maimoona the Gift: Young Maimoona appears, insisting she's a gift sent by Miss Baxter's former lover. Ever the thoughtful matchmaker, Miss Baxter pairs Moona with Jessica, another of her boarders. It's lust at first sight, and things get even hotter as Moona confesses her alien abduction fantasy, in this tender and kinky story that will leave you breathless.
Book 5: Hilary the Au Pair: The year is 1982. Young Hilary Baxter is an au pair in a far away land, looking after Hasiba, an exotic and attractive woman, nearly her own age. It's an easy assignment, until Hasiba proves to be a handful. Hilary proposes a strict system of rules and punishments to correct the situation, but will Hasiba agree to Hilary's terms? And will Hilary's growing feelings for Hasiba spoil the dynamic?
Book 6: Hasiba the Lost Love: When the mother of one of her boarders comes to town for a visit, Miss Baxter seems not quite her usual self. Picking up on the dynamic, two of her boarders decide to put the situation right. A little late night eves dropping, with a swat and a moan, lets them know they've done their job.
START READING TODAY!
---