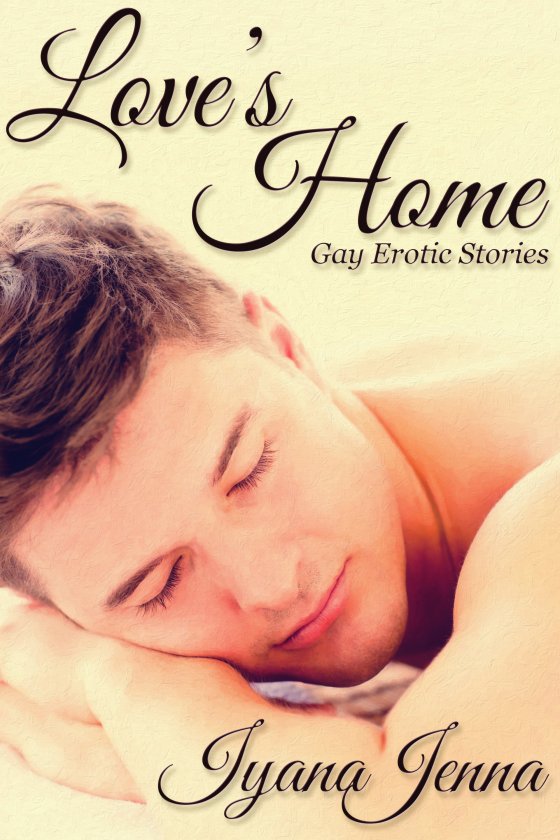 The box set Love's Home by Iyana Jenna is now available!
Blurb:
Sometimes you need a break, to get away somewhere, but in the end you always return to a place you call home. The saying goes, "Home is where the heart is." It doesn't matter if it's big or small, pretty or shabby, what matters is it's your Love's Home.
This box set features five of Iyana Jenna's best-selling gay contemporary romance stories. A homeless PA finds a home in an actor's life. An abduction almost steals a man from his loving boyfriend. A love triangle nearly ruins everything. A sex slave is rescued by an unlikely savior. A young man discovers a new home after he loses everything.
These best-selling romances by Iyana Jenna are available as single ebooks, but are published exclusively in one box set.
Contains the stories: A Home for Jesse, A Single Black Rose,Misunderstandings, Will and Pleasure, and Ya Like That?
Excerpt from A Home for Jesse:
This ain't so bad. Jesse pats his laden backpack. He stretches himself on the bench and lowers his head onto the bag, grimacing at the bumps pressing against his head and neck. Awesome. He is going to have major cricks and headaches come morning. That is if he's not suffering from early signs of pneumonia.
Jesse shifts and grunts and finally gives up. He sits up, takes off his jacket, and spreads it over his front before he lies down again. Moving a bit again to find the most comfortable position, he thinks,Fuck, now my shorts are stuck in the crack of my ass. Jesse reaches down and pulls them free — ah, that's better.
He takes a deep breath. So he's a bum now, is he? His ma would be heartbroken if she knew. She could blame him for being such a hard head and insisting on having his own way. Jesse stares blankly at the leaves swaying on treetops, at the shadows of the swings dancing in the dark, at the stars blinking mockingly down at him. At least the fact that they are up there means that the sky is cloudless and Jesse doesn't need to worry about the possibility of rain tonight. Getting soaked when the only place he has to sleep is this park would be a pain in the ass, not to mention hazardous to his health. Jesse also hopes no cops will come patrolling tonight.
Weary to the bone, Jesse curls both hands under the side of his face and gives in to slumber.
* * * *
"Come on, Trey, one more glass. Don't be a spoilsport."
Whatone more glass means for Brent must be different from what it means for Trey. They have been here for hours. Trey had sneaked a glance at his watch once. It showed four — and that must have been half an hour ago. Still there is no sign they are leaving soon.
Trey regrets his decision not to drive his own car and ride with Brent instead. Fuck. He's going to screw up his shot big time tomorrow — or rather,this afternoon.
"What celebration am I spoiling again?" Trey leans forward. Brent looks taken aback but he immediately offers a smile, which looks more like a snake's sneer.
"Trey, that's not nice." He wags his forefinger.
"The hell with nice." Trey rests his head on his folded arms on the table. "I'd rather be with Jess –"
Oops. He slipped up and said it out loud.
Brent and the others sitting around the table seem to come to a consensus to stop whatever they are doing and switch their attention to Trey.
"Jess? Jess who?" Brent asks. "I thought you were with Kimberly."
Trey feels blood rush into his face but he sighs inwardly in relief that Brent doesn't know who he was talking about.
"Kimberly? Right. And you said she'd be here! Where is she, Brenton?"
Brent visibly cringes at the name and Trey feels like guffawing. Eat that, asshat!
"My name's not Brenton."
"So what? You haven't answered my question."
And neither has Trey, but Brent has forgotten about that. Trey gulps down his drink, and tries to shut down from everything going on around him.
---