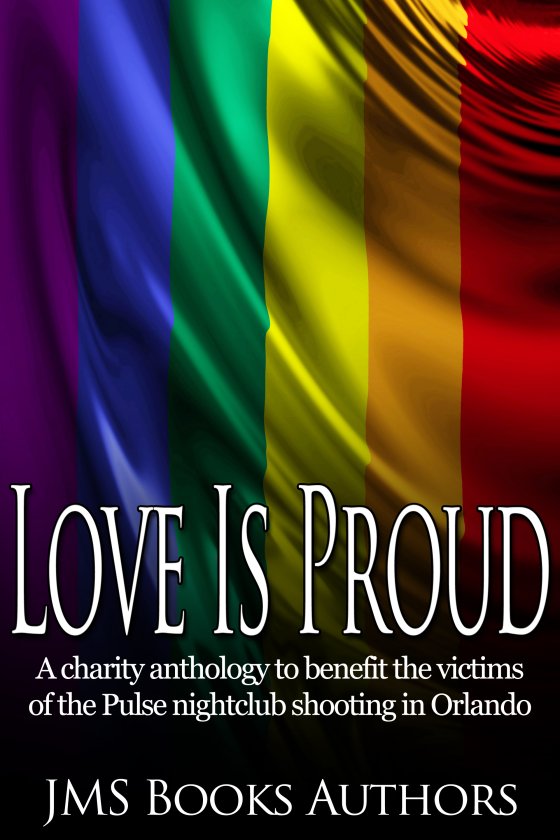 Love Is Proud by JMS Books Authors is now available!
Blurb:
In the early morning hours of Sunday, June 12, 2016, a gunman entered Pulse, a gay nightclub in Orlando, Florida, and opened fire. Forty-nine innocent people lost their lives that night, and many more were injured. The LGBT community reeled when the news broke, not only because it was the deadliest mass shooting in the US to date, but because the act of terror and hatred was aimed directly at them.
In the aftermath, many of us struggled for a way to express our grief and fear. With that goal in mind, the authors of JMS Books sought an outlet for their emotions; thus, this anthology of short stories and poems was created.
Love Is Proud celebrates queer love in all its forms, showing that love must triumph over hate. Whether it's spending a quiet evening together at home, a night out on the town, or attending the local Pride event, this collection embraces how empowering love can be between men — or women, or any and every shade under the LGBTQIA umbrella.
Featuring never before published work from 49 different authors, Love Is Proud is a collaborative effort whose entire proceeds will go to Equality Florida to benefit the victims and their families of the Pulse nightclub shooting. All the work in the collection, including the editing, has been donated to offset the costs. This stunning anthology will be a charitable keepsake whose message of pride in who and how we love is an enduring testament to all those affected by this tragedy.
Authors included in this anthology are: Jeff Adams, Addison Albright, John Amory, Leska Beikircher, Mychael Black, Mel Bossa, David Connor and E.F. Mulder, T.A. Creech, Nanisi Barrett D'Arnuk, Kim Davis, Annie Dean, Vivien Dean, Keelan Ellis, Paul Alan Fahey, Eric Fahnestock, Dean Frech, Francis Gideon, Lisa Gray, La Toya Hankins, William Holden, Drew Hunt, Rebecca James, Nickie Jamison, Shawna Jeanne, Iyana Jenna, Dilo Keith, Shawn Lane, Kassandra Lea, W.S. Long, Rae MacGregor, Wayne Mansfield, J.T. Marie, Matthew J. Metzger, Ruby Moone, H.D. Nels, Deirdre O'Dare, R.M. Olivia, Terry O'Reilly, Jessica Payseur, Matthew Robbins, Rob Rosen, Feral Sephrian, J.M. Snyder, Louis Stevens, Michael P. Thomas, Tinnean, J. Tomas, J.D. Walker, and Emery C. Walters.
EXCERPT FROM "Honey, I'm Home" by Michael P. Thomas:
We watch the bar. The few early birds on the dance floor; the scarecrow-lookin' pool shark who's here so often we think he probably lives in the basement; the hard-core drinkers at the back bar with their stools turned away from the rest of the room. I met Ruben at the Ramrod, it's been almost three years ago now, but we hardly ever go out these days. I've gotten pretty attached to my pajama pants, and drinks aren't free, after all. I'd all but forgotten the simple joy of touching him without having to listen for patrolling footsteps. Determined to rid myself of Ruben's overbearing parents, I've jammed all my shit into my suitcase twice in the last couple months. Once I even got it as far as the trunk of Andrea's car. I've been trying, but I just can't bring any vision of a future without Ruben in it into any kind of focus. All I can imagine myself doing is moping around, wishing I hadn't been fool enough to leave him, and right now they'd have to shoot me in the ass with a tranquilizer dart even to get me to let him go as far as the bathroom. The couple broke-down old barflys that stumble by are a little too interested in the feel of Ruben's shimmery shirt against his board-flat belly, and the music's not that great, but if anyone cared to ask, I'd be hard-pressed to name a place I'd rather be.
And the music might pick up. It's a little after eleven, a little before cocktail number three, when a tiny drag queen pops up in the DJ booth like a puppet at a summertime street fair, dying to know, How the fuck are you, Ramrod?! She scowls at the anemic cheer the scant crowd lobs back in response, but mutters into the microphone, "We'll see about that."
The first song she plays rattles the mirror behind my head almost out of the wall. Midway through her second song people are popping up on the dance floor as if transported into an especially gay episode of Star Trek. Her third number is a hypnotically danceable Britney Spears-era Mexican pop song that launches Ruben from between my legs like maybe they were spring-loaded.
If I weighed half what I do, the yank Ruben gives my arm would fling me over the heads of the few people still resisting the call to dance. "OhmygodIlovethissong!" Ruben can barely spit it out around his excitement. "Pleasepleasecomedancewithme!" Sing-laughing along, with eyes the size of pancakes, he tugs on my arm like if I don't get up he'll just rip it off and bang me about the head and shoulders with it until I do, so I hoist myself onto my feet and follow him to the floor. It's not like I have to think about how to dance to a song like this; my blood pumps to the rhythm. When Ruben presses his swinging hips against mine, my body disconnects from my brain, plugs into the music, and bounces where it will. The next song's in Spanish, too, kicking open the door to a throbbing Caribbean remix of Billie Holiday's greatest hits. Where five seconds prior to actually doing so it would have been impossible to imagine barreling through a merengue version of "Fine and Mellow," by the time the DJ moves on to a B-side Swedish disco medley, I pity the world full of suckers who will have to slog through their lives without ever being offered the chance.
I'm dripping in sweat. I'm gasping for breath. My feet are killing me. Probably. That's how I usually feel three songs in, but tonight my body is impervious to everything but the beat. Ruben undoes the buttons on his shirt until it falls away from his taut golden torso. Then he undoes the buttons on mine. If the voice that's lived inside my head my whole life scolding me into shame for the size and shape of my stomach is here tonight, it's too caught up in the music to remember to pipe up. I don't even remember to swat Ruben's hands away. Instead, he slides them inside my sweaty shirt and pulls me to him and we swing and sway as one. Through more disco, more pop, and a remixed call-and-answer folk dance from some far-flung country I guarantee no one in the bar has ever heard of that packs the floor with the people who have apparently been pouring in.
Or maybe they've been here all along. Ruben runs his fingers through my soggy hair and stands on his toes and for all I can remember, the whole world consists of him, me, and the music. There are no bathroom-hogging grandmothers or desperate nieces, no crappy jobs or cobwebby wallets. The bar and even our bodies disintegrate in the heat of this kiss until all that remains is the trust I've been afraid to ask for and the tenderness I've been too self-absorbed to share.
---