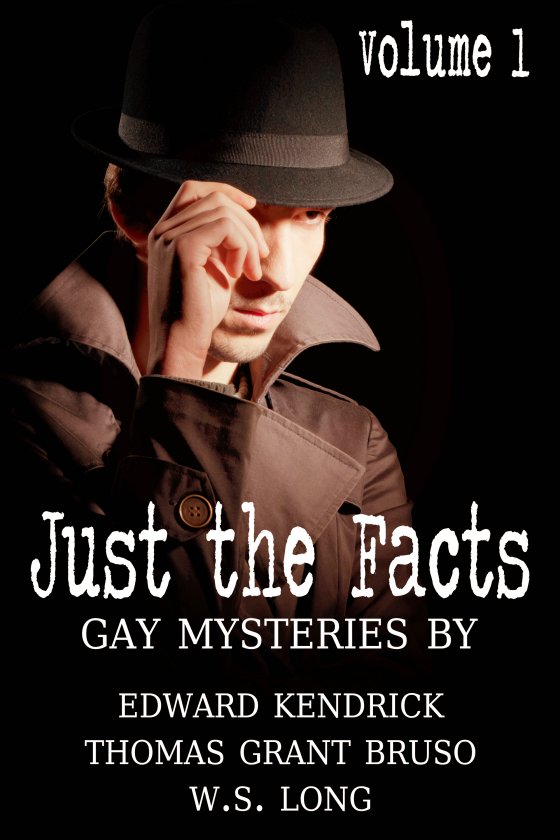 OUT NOW! Just the Facts Volume 1
JMS Books' Trios are themed collections of three gay romance stories by a trio of authors. Each story is available separately, but readers can get all three for a discounted bundle price.
Just the Facts Volume 1 contains three thrilling mysteries sure to keep you up late turning the pages to see what happens next! Contains the stories:
Murder in the Condo Next Door by Edward Kendrick: When a crazy woman moves in next door to Michael he isn't happy. Then she's murdered and he has to deal with a detective's suspicions and nosy reporter Reid, who tries to interview Michael and fails. Then Michael finally opens up about the murder … and his past. Attraction blossoms as they try to find the killer, but will Michael die, too, before they can act on their feelings?
Past Sins by Thomas Grant Bruso: Officer Jack Ballinger receives a phone call in the early morning hours regarding a dead body in a quiet neighborhood in the small upstate New York town of Black Falls. The revelation is shocking, and with his future as a police officer in question, how will Officer Ballinger deal with the truth of these crimes once he learns that everything he thought he knew was a lie?
Sudden Death by W.S. Long: Peruvian-Japanese pro golfer Dimas Kanashiro should have been celebrating his first major golf tournament win. Instead, the suspicious death of his boyfriend's stepfather places Dimas' boyfriend, Hunter Mullins, under suspicion. It's now up to Dimas to help Hunter find out how his stepfather died and, if he was murdered, who killed him in order to clear Hunter's name.

START READING TODAY!
---