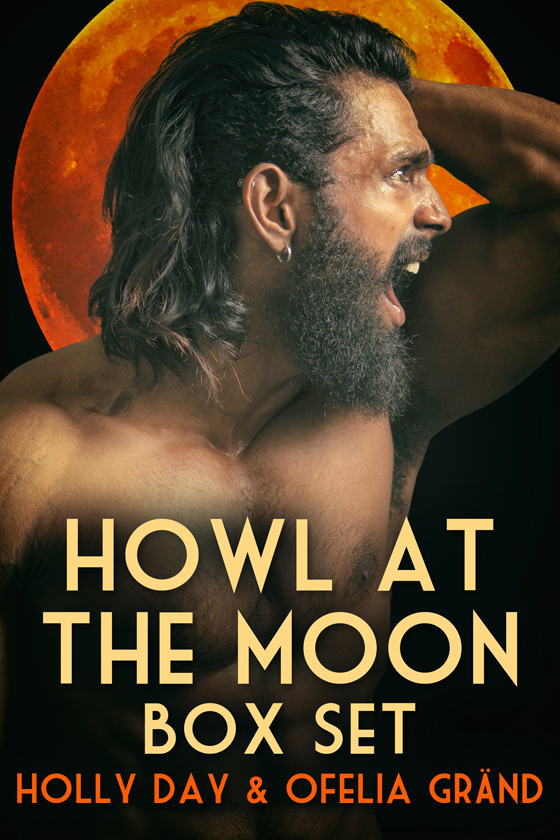 OUT NOW! Howl at the Moon Box Set by Holly Day and Ofelia Gränd
Maybe having a mate isn't for everyone.
Howl at the Moon is a set of four M/M romance novellas with growling werewolves. Somewhere out there, four individuals are going about their lives, unaware they're the fated mates of wolf shifters. And when they find out, being over the moon doesn't quite describe the feeling. Will everyone end up happily mated in the end? Read and find out!
Contains the stories:
The Blood Witch by Holly Day: Conri is king, but someone is trying to take him down. Nick is a blood witch, who is in Conri's territory but refuses to see him, which puts him on the top of Conri's list of suspects. When he goes to confront Nick, things don't turn out the way he'd planned. Nick is his destined mate, but he doesn't want anything to do with Conri. Conri needs Nick, but can he convince him to fight by his side?
Soul Eater by Ofelia Gränd: Detective Thaddeus Ezax is in over his head. He's a wizard in the Paranormal Investigations Department. While most children can cast a location spell, Thaddeus can't, so when he gets a kidnapping case, he is forced to get creative. He finds a werewolf skull with a ghost trapped inside, accidentally releases the spirit, and somehow forms a connection with it. Can things get any crazier?
One Would Be Enough by Holly Day: Teo has worked hard to achieve his dream of owning a house. When he refuses to sell it to a pack of werewolves, they kidnap him. He finds himself locked up in a basement with Jerico. Jerico shouldn't care about the human, but when he learns he's in danger from his former pack, he knows he has to find a way to get them out of there. But for how long will Jerico be able to keep Teo safe?
The Cake Shop by Ofelia Gränd: York is attacked by a rivaling werewolf pack. Injured and exhausted, he takes refuge in a bear-owned bakery. Torbjorn doesn't do people, he doesn't do wolves, and he will definitely not mate one no matter what the pull in his heart says. York has finally found his mate, but Torbjorn refuses to let him stay. How will he make Torbjorn understand he means him no harm when he refuses to talk to him?
START READING TODAY!
---