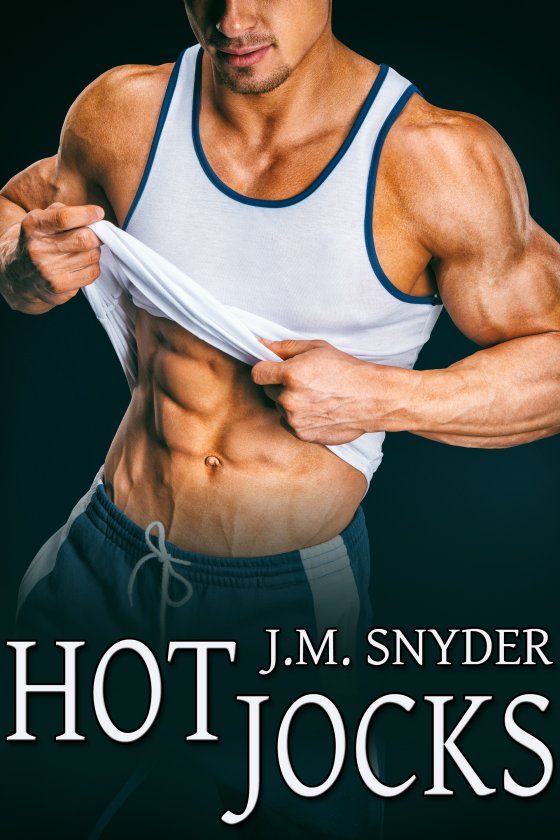 Hot Jocks Box Set by J.M. Snyder is now available!
Blurb:
Eight hot, sexy stories about gay athletes finding love and lust on the playing field in one sizzling box set! Contains the stories:
Faceoff: Minor league hockey player Christian Magdziuk transferred to a new team, leaving his teammate and lover Ronnie behind. Now it's the first game of a new season, and he's facing off against his former teammates in the season opener. But does something still smolder between Christian and Ronnie after all this time?
Play On: This is Cordero's rookie year with the intramural soccer team, but he catches Sean's eye the first day of practice. Sean wastes no time letting this fly brother know just how sprung he is. The feeling's mutual and there's no denying the spark between them. Unfortunately, Sean is easily distracted by Cordero on the field. Can he get his mind back on the game before he's thrown off the team?
Served!: The night before Wildwood's annual Beach Volleyball Tournament, Colby meets Van at a bar. The instant attraction is mutual. The next day when Colby runs into Van at the tournament, a quick look at the schedule shows the day could end with the two facing off through the volleyball net. To up the ante, Van proposes a little wager. Whoever loses gets whatever he wants from the winner.
Tee'd Off: Greg has loved golf since he was a kid. When he was twelve, he met Trevor Johns, who he caddied for throughout high school. Ten years later, Greg works at the Hermitage Country Club where he runs into Trey Johns, son of his former employer. Trey is quick to inform Greg he's smitten with the caddy, but Greg has reservations. Greg almost blows a chance to hook up with Trey. Will he get another?
Batter Up: Rob Ritchie sneaks into the ballpark to watch practice and ends up going out with short stop, Mike Hennessey. It isn't until they face off on the baseball field that Mike realizes he slept with the enemy. Can Rob talk his way back into Mike's bed after the game?
Victory Lap: After a hard look at his life, Josh Helton ditches his abusive boyfriend and takes up running. On a morning jog he meets Chad, a sexy bicyclist who's everything Josh has always wanted in a guy. But Josh isn't confident in himself any more … so it's up to Chad to make the first move.
Getting Wet: Rory Holt is the best swimmer on the team at State U. and he knows it. If he hopes to win Olympic gold one day, he can't let anything distract him. But new teammate Chase Cohen is determined to catch Rory's eye. Rory can't deny the attraction he feels towards Chase, but when it costs him his spot on the leaderboard, he's pissed. Is Chase after Rory's position on the team, or Rory himself?
Out of Bounds: Jo plays basketball on his college team. At an off-campus party before the season begins, he hooks up with a guy named Kevin. Things heat up between them, leading to a night of hot sex. But the next day Jo learns Kevin has been hired as his team's new assistant coach. Is their budding relationship over before it even begins? Or will Kevin go out of bounds to be with Jo?
START READING TODAY!
---