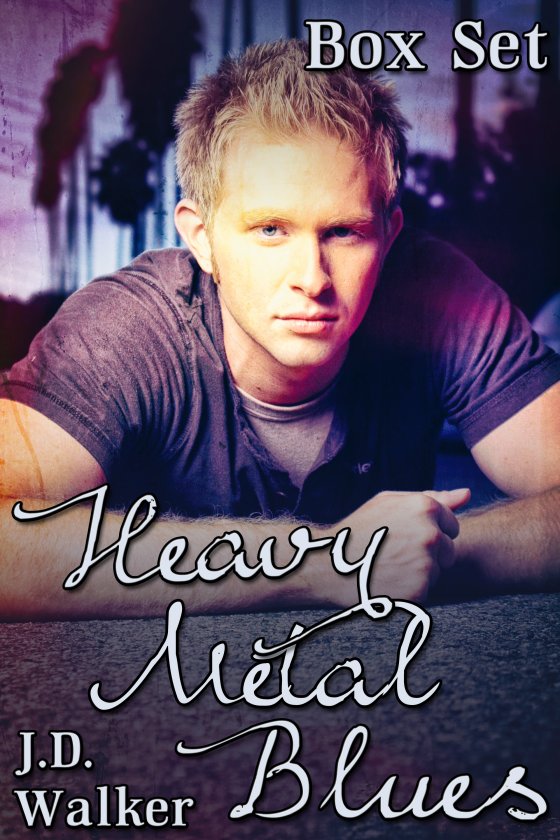 Heavy Metal Blues Box Set by J.D. Walker is now available!
Blurb:
Multi-published author J.D. Walker brings you four gay erotic romances that will warm your heart, from the quirky story which pits a country music fan against a "metal boy" to the bittersweet tale of a rigid CFO who always says the wrong thing to the man he loves. Housemates, secrets, a sunny attitude, and an executive who needs to let loose all connect to bring each other out of the Heavy Metal Blues.
Contains the stories:
Heavy Metal Cowboy Blues: Lester "Les" McCoy loves his country music. He's also in lust with Damien Ridley — the 'metal boy' who lives downstairs — despite his very loud music tastes which drive Les crazy! He's an old prairie bachelor, and thinks Damien is too young for him. But, a gay-bashing and some friendly advice lead Les to use Patsy Cline and canary yellow underpants to get the stud he's always wanted.
Heavy Metal Bicycle Blues: Kenny Culpepper is a spin instructor, but he used to do more with his life. He's still recovering from the homophobic attack by his former roommate, Biff Tremonte, and when he receives a letter from Biff's brother, Kenny's not sure what to do. But the two men meet, and Cypher Tremonte confesses that he was also a victim of Biff's rage. What they find together is unexpected, and could become love.
Heavy Metal Sunshine Blues: Sonny Bonhomie is happy to sleep with Noah Stiles, a sexy guy he meets at a club. But then he finds out that Noah has a boyfriend, and confronts him about it. Worse, Noah tells Sonny the real reason he slept with him in the first place. Heartbroken, Sonny goes to a new LGBT bookstore and runs into Bruce, a bartender he knows. They hit it off, and Sonny's sunshine blues might just be over.
Heavy Metal Heartfelt Blues: Bridges Barfield is a stern, rigid man who's hard to please. But then he meets Trenton LeDoux, he of the magenta hair, lip ring, and free spirit, and they hit it off. Trenton seems to be stuck in the past with his dead husband, however. Bridges tries to help, but suffers from saying-the-wrong-thing disease. It takes many missteps before these men finally have a union that's truly heartfelt.
EXCERPT FROM "Heavy Metal Cowboy Blues"

"He fell asleep again," Damien whispered when I returned an hour later. Kenny was stretched out on the couch, a blanket covering his slim, tragic figure.
We both stood by the couch and stared down at him. "I'm glad he had you to turn to. I mean that. You're a good friend." I leaned in to kiss Damien's cheek.
Damien looked shocked. Touching the spot, he asked, "What was that for?"
"Because you are beyond awesome, despite your taste in music."
"You think I'm so awesome, why don't you cook me dinner? I haven't eaten since this morning and I've been running around trying to arrange things for Kenny."
"Maybe just this once. Leave him a note or something. Put it on the table so he won't freak out if no one's here when he wakes up."
"Good idea." That done, we both headed upstairs to my place.
"I have some leftover tuna casserole. That work?" I asked as I headed to the kitchen to get us some food. I was starving, too.
"Sounds perfect." He rubbed his hands together enthusiastically, a huge grin on his face.
"Good. Make us a salad. Stuff is in the fridge, bottom drawer."
Fifteen minutes later, we were enjoying our meal, and Damien regaled me with some anecdotes about the gym and some of the members' shenanigans.
"So," he said, "I'm cleaning the showers in the men's locker room, right? And this guy comes up to me, naked, and strikes a pose, like I was supposed to be impressed with the goods. I ignored him, mainly because a pencil dick on top of two pebbles isn't my thing." I snorted.
"Anyway, he comes closer to me and tries again. Still nothing. Then, he reaches out like he wants to touch me and I turn around and spray him with the handheld showerhead. The water was really cold. He wasn't happy."
"Oh, that's evil. I kinda like it." I chuckled. "My turn." I took another bite of the casserole and chewed for a bit.
"Okay, this customer comes in looking for a hat. Greenhorn, gettin' ready to go to some dude ranch out in Kansas. Thinks it's her God-given right to find the ugliest damn hat in the store, and call it cute. Well now, I look at her head, and I guess she's about a size seven. She don't believe me, though. And of course, she wants the hat with the leopard print design that's just too small.
"You should have seen her struggle with that thing, pullin' it this way 'n that. I tried to keep a straight face. Really I did, but I burst out laughing. She got mad and told me it was all my fault the hat didn't fit, threw it down and stalked out the store. I apologized to the hat and put it back on display. People suck."
Damien was rolling by the time I was done. It was a pleasure to watch him laugh. He calmed down after a while and wiped away the tears on his cheeks.
"Oh man, I wish I could have seen that. Priceless!"
We were both finished with our meals by now. I got up to clear the table. "Let me help," he said.
"Sure." We got everything put away and the dishwasher stacked in record time.
"Beer?" I asked.
"Sure, thanks." I got two bottles of Budweiser from the fridge and led him out to the living room. The stereo was on from earlier, and soft music played in the background.
---