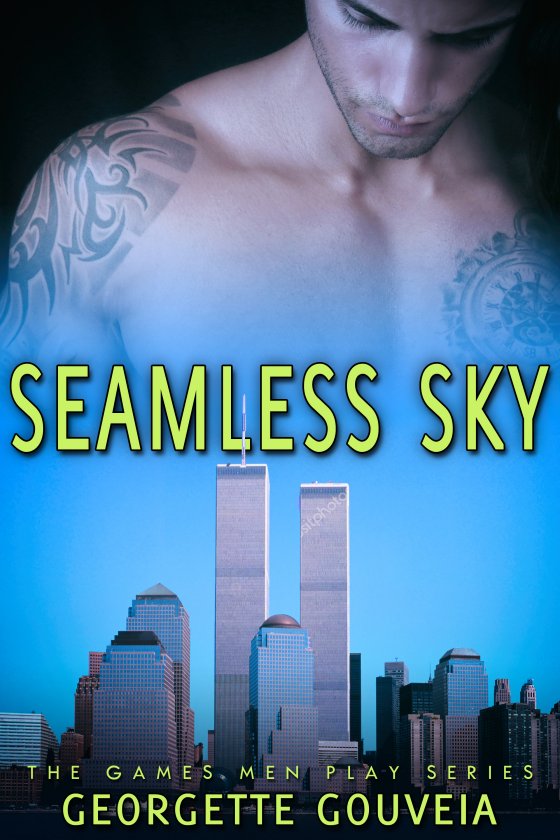 What's a straight woman doing writing homoerotic fiction?
It's a question I've gotten occasionally at public appearances ever since the publication of my novel Water Music in 2013. That book, the first in my series The Games Men Play, is about four gay athletes — two swimmers and two tennis players — and how their rivalries color their personal relationships with one another. I followed that up with The Penalty for Holding (2017), a Lambda Literary Award finalist and JMS Books reissue, about a gay, biracial quarterback's search for identity in the NFL.
The next two books, published by JMS Books last year — Burying the Dead, a psychological thriller about a tennis player who's really a Russian agent and assassin, and Daimon, a novel of Alexander the Great — centered on bisexual men, while Seamless Sky, published earlier this year by JMS, is a family drama set around the events of 9/11 with a heterosexual protagonist. What they all have in common are themes of power and rivalry, often the subjects of the sports/culture blog I write.
But why use gay or bisexual men to explore these? Apart from the fact that until recently, only men held any real power, my interest in homoeroticism began with a childhood steeped in the ancient Greeks. They had a custom in which a man in his 20's would form an attachment to a youth in his teens as part of a finite socialization process that prepared freemen for citizenry and marriage. Meanwhile, the poet Sappho celebrated love between women. So this did not seem unusual to me, particularly as I became fascinated with Alexander the Great, the Greco-Macedonian conqueror of the Persian Empire, whose dissemination of Greek culture paved the way for everything from Christianity to American superpower. Alexander was a lover of both strong women and beautiful men.
Over the years, I made several stabs at stories about male friendships (an unfinished baseball novel Due Seasons) and two rival male movie stars who fall for each other (the unfinished Waterdance.) I was moving toward something I didn't yet grasp.
What sealed the deal for me, however, was the fan fiction I found online, which inspired Water Music, my first published novel. Here were stories by women for women that explored the uncharted territory — for us at least — of imagining what it must be like for two beautiful men to have sex. I didn't just find fanfic erotic and titillating, I found it an escape, a release and a validation, as if someone finally understood that little girl in love with the ancient Greeks. I saw these tales as a feminist rallying cry, even if they were about Benedict Cumberbatch being in love with Martin Freeman (Sherlock fanfic) or Spock discovering some very un-Vulcan feelings for Capt. Kirk (Star Trek fanfic) or Novak Djokovic taking up with Rafael Nadal (tennis fanfic).
And yet, I realized that for me, fanfic — however entertaining — was just a station on my way. I didn't want to fictionalize real people (my childhood hero Alexander being an exception). I wanted to write fiction unencumbered by what an actual contemporary person might be like. Fanfic was the freeing springboard for my homoerotic novels.
They are, though, a kind of cultural appropriation, and cultural appropriation can be frowned upon when the culture you're appropriating from has been oppressed. All I can say is that in whatever I write, I strive for the psychological truth that is the essence of art.
"Whenever anyone asks you why you write what you do," a former editor of mine once said, "just tell them that Stephen Crane, who wrote the great war novel The Red Badge of Courage never set foot on a battlefield."
Throughout history, writers have met their subjects on the bridge of the imagination. I think we still do.
Save 40% off all my ebooks today only!
Also, save 40% off books by Pepper Espinoza and Jamie Craig, too!
We're giving away a free ebook every day this month! Starting tomorrow, one winner will be drawn daily. So enter to win today!
---