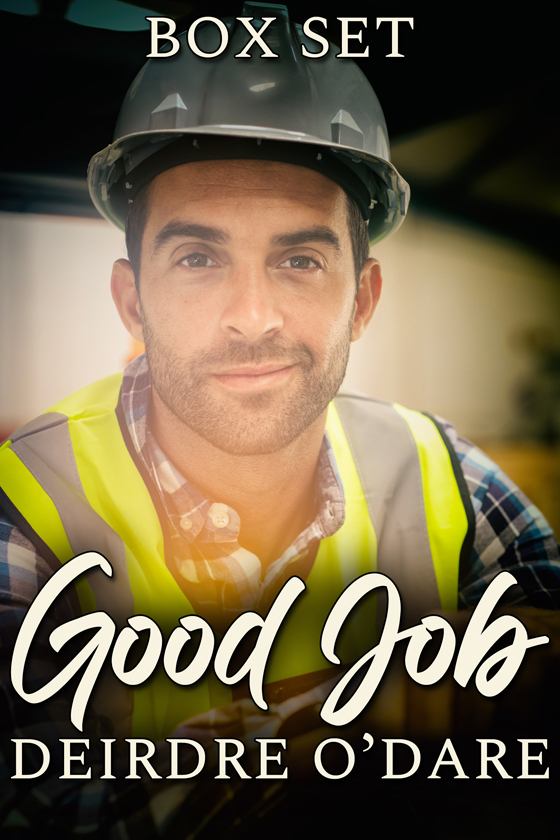 OUT NOW! Good Job Box Set by Deirdre O'Dare
For many men, their job or career represents their identity and a measure if their value. This huge part of their lives is often so demanding it leaves no room for romance or seeking the right partner. Whether a fellow works as an undercover agent and investigator, as a high level celebrity attorney, as a mechanic who struggles with a difficult handicap, operates a junk yard or hires on to railroad maintenance for a summer job, anything can happen. Doing a good job should win him top pay and advancement. It might even morph right into a hook up beyond his wildest dreams!
Contains the stories:
Special Delivery: Easy going Jeff seems to be Monte's dream man but is Jeff hiding a risky secret that puts their new friendship at risk? For Monte, Jeff gives special delivery a whole new twist.
Muscle Car Man: Jeff needs help; Mike needs a new start. Did fate set them on converging tracks to give them something else they didn't know they needed?
Always on My Mind: After the prom, Garth and Peter didn't score with their dates but found each other. Years later, celebrity Peter needs attorney Garth's help and old memories revive.
Workin' on the Railroad: Two very different men, an irresistible attraction, and a dangerous job to be done. Will it morph into a train wreck or the perfect connection to take them down life's track?
Wrenching: Mal has overcome hardships, becoming a skilled mechanic, despite his handicap. He's lusted after rancher Dan but never dreamed he could do a key service for his secret hero. Dan claims not employees but friends help him run his inherited ranch. Could one betray him, causing dangerous sabotage to his truck? Can the young mechanic solve this puzzle?
START READING TODAY!
---