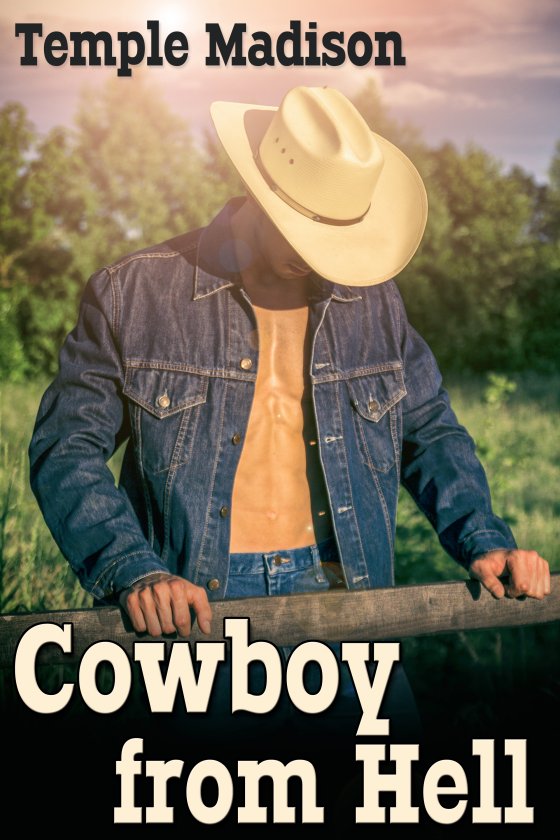 Cowboy from Hell by Temple Madison is now available!
Blurb:
Storm Benedict was injured in a mine explosion when he was very young and wandered away from town dazed and disoriented. Ten years later, he returns a big, handsome, rough-talking, big-as-a-mountain cowboy who has inherited a ranching empire.
After learning of Storm's inheritance, the town fathers legally attach the ranch and refuse to let it go until Storm gets married, so he sends for a mail-order bride.
Saul Denis is a city slicker from the east with a secret desire to become a cowboy, but he doesn't have the money to travel west until his sister Sable receives a proposal from a big, good-looking cowboy with a sexy grin. Saul swipes the letter, making a deal with Sable to go in her place. When he meets Storm, he is overwhelmed, quickly falling in love with the big cowboy. Soon, Storm reunites with an old drifter friend, Curt Sanders, and sparks fly between all three men.
And then Saul's sister Sable comes to town masquerading as a lady when she's actually an evil little spitfire who tries to take Storm away from the other two men, including her brother. They eventually find out what she's up to, and along with Storm, makes sure she gets what she deserves.
Will Storm's passion for a drifter and a city slicker be the end of his empire, or will the three men stay together and fight for their love?
START READING TODAY!
---