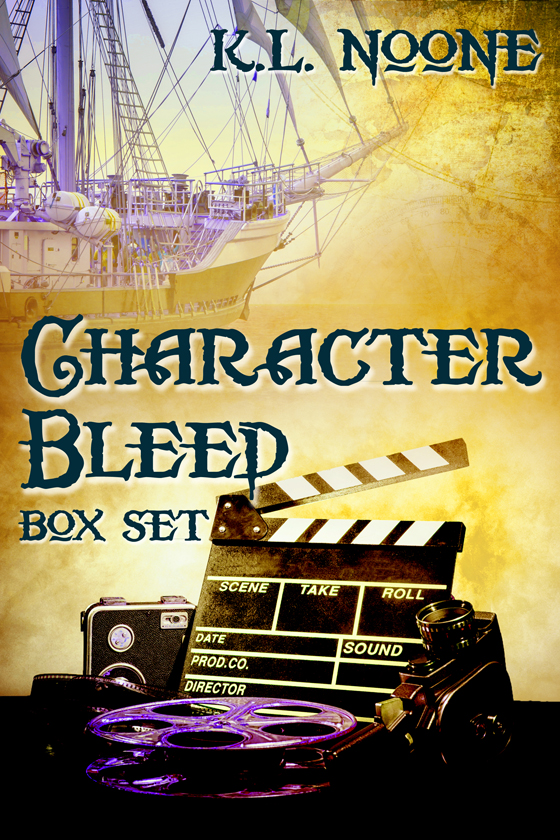 OUT NOW! Character Bleed Box Set by K.L. Noone
Aging action hero Jason Mirelli wants to prove he can be a serious actor. And his fellow lead, adorable rom-com star Colby Kent, wants to tell this story with all his heart. As their characters fall in love, Jason and Colby will have to navigate old fears and new desires on set … and write their own love story.
Contains the following stories:
Seaworthy: An epic motion picture! A historical gay love story! And a film that'll change its stars! Jason has a chance at a serious role. First catch? He's playing a ship's captain. Second? His way too adorable co-star. Colby's thrilled to tell this story. But past scars make filming hard — until Jason takes his hand. Jason could be everything he wants, if he can believe it.
Steadfast: A confession! A quest! And a happy ending or two … Jason has everything he's ever wanted: a leading role, an epic love story, Colby happy in his arms. But Colby has a secret. Colby hopes to share his writing with the man he loves. But he's nervous about revising a classic novel, and wants to find the reclusive author. First he'll have to trust Jason — so they can write their own happy ending.
Stalwart: Cameras, storms, and love confessions! Jason and Colby have fallen in love on camera and off. But it's not smooth sailing. This role could save Jason's career — and an on-set accident might make his worst fears real. Colby's telling a story he loves, with the man he loves. But it's so fast, and he's been hurt. He wants to trust Jason — but before he can, an accident threatens everything.
START READING TODAY!
---