Filed under: Guest Posts May 21, 2016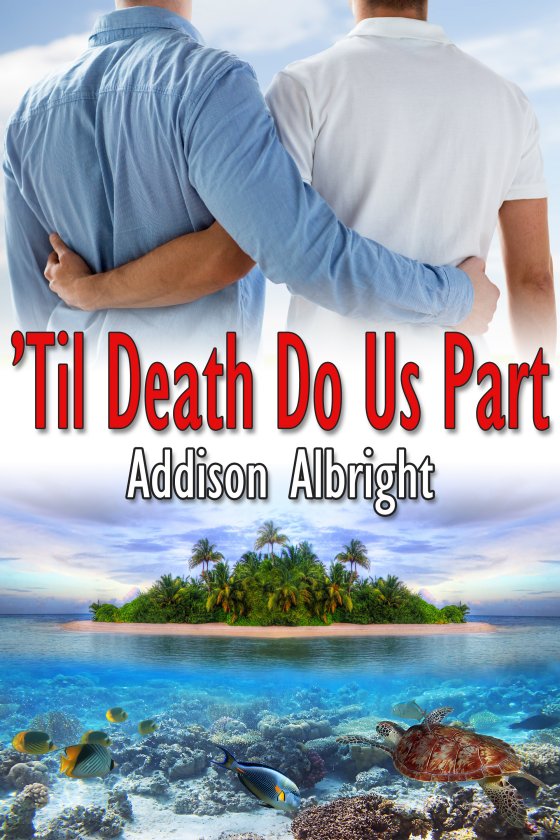 Addison Albright has stopped in to talk about her latest novel, 'Til Death Do Us Part, which was published by JMS Books in April and will be going into print in June! And we're giving away a free copy of the ebook this weekend!
Blurb:
Henry and Sam Miller-Greene are living the dream. They love their careers — which afford each of them opportunities to travel to exotic locations — they love their home, Sam's caring family, and each other. They disagree on the subject of adoption, but are fully committed to each other in marriage … 'Til Death Do Us Part.
The dream is shattered when Henry's plane crashes and he's presumed dead. But four people — Henry, two other men, and a child — survive undetected on a remote, small, and insignificant island. Will Sam and Henry's love be able to survive, as well?
Henry fights to endure in harsh conditions, never knowing when disaster will strike. Sam struggles with his loss, but with help moves on with his life. Will Sam be able to put aside his new love when he reunites with Henry?
Addison Albright on 'Til Death Do Us Part:
I'm thrilled to be back in the saddle—so to speak—writing again after more than seven years without taking advantage of that creative outlet. I recently released my longest story to date at JMS Books, titled 'Til Death Do Us Part.
I'm going to talk a little bit about my inspiration and models for "Buddy," who seems to be a favorite character according to the feedback I've been getting. The reader first meets Buddy in Chapter 1 as an approximately 9-10-month-old baby/tenacious airplane crash survivor, then sees him grow via peeks into his life at various points during the interval of time Buddy, Henry, and the other survivors spend marooned on their island.
Early last year, my oldest daughter gave birth to my first biological grandchild. When my daughter went back to work, I gained the privilege of watching my new granddaughter for a stretch of most weekdays. Oddly enough that's about the time I considered my life to be calmed back down enough to start writing again. So my granddaughter, "Z," was my inspiration for including a baby in the story that was percolating in my mind.
"Z" was, however, way too young to be the model for Buddy's development and behavior. That's probably just as well. She's turned out to be a bit daintier than the great-niece and step-grandson that were my models for the younger, then older versions of Buddy. I can't picture "Z" rolling with the punches the way Buddy had to do to survive.
My great-niece was about the age I pictured Buddy to be for the plane crash scene at the time I was writing it. She's at the top of the curve developmentally and was capable of everything Buddy handled at that age. My step-grandson is now in kindergarten. He, his sister, and mom had boomeranged back into our household during a long stretch of his baby-toddler-preschooler years. His fun, eager to learn and please personality inspired Buddy's corresponding years.
Now that "Z" is at the early toddling stage, I mostly limit my writing time to afternoons/evenings after she's been picked up. I'm able to sneak in some social media time while I'm watching her since that doesn't required much concentration. Writing does. Early in the story, Henry shares this lengthy thought:
"I'd had no idea what challenging was until I'd taken a coconut, freshly fallen from a tree, and processed it to the ready-to-eat stage using only crude stone tools, while minding a freshly crawling baby without any Baby Einstein jumpers handy to stash him in to prevent him from finding one of the myriad number of ways to hurt himself on a tropical island."
I may not be on an island, but there are still a myriad number of ways for "Z" to hurt herself — or at least make one heck of a mess — so full concentration on anything other than her is no longer an option when she's awake. Therefore, progress is a little slower than I'd like for my spin-off story where poor Nash finally gets his HEA. Never fear, though, it is happening, and so is a short story direct sequel that starts soon after 'Til Death ends. Short snippets from each of these WIPs can be found on my blog/webpage at addisonalbright.wordpress.com.
Read an excerpt or buy a copy today!
Giveaway!
Or enter below for your chance to win a free copy! One winner will be announced Tuesday, so enter today!
a Rafflecopter giveaway

---