Filed under: Guest Posts Mar 17, 2018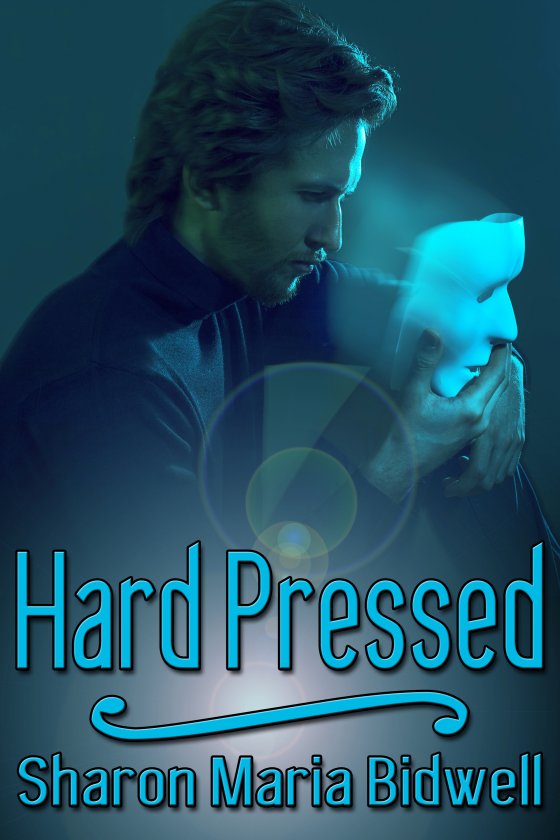 Sharon Maria Bidwell on Hard Pressed
Can absolution arrive in three little words? Should an author have favourites among their own works?
I've always found this an interesting question and the sole answer I can reach is, if they do, it cannot be helped. Some characters just speak to us even though they're our own creation. Maybe more so because we gave them life. Out of my current titles with JMS Books, my Snow Angel trilogy has been with me a long time, been a 'long time in the making' and at last seen completion. I love these guys who have suffered a love/loathe reaction but, if loved, then … well, they seem adored, and the layers of subtext understood. Still, it would surprise many to hear these aren't my favourite. Seduced by a Legend is one of my favourites — the writing flowed and it's difficult to recall when I last had so much fun than writing this gay version of Sleepy Hollow — but as a choice, it ties with Hard Pressed.
Hard Pressed is, in a way, a companion book to Acting Out but there's no need to read Acting Out or even to appreciate said book to read Hard Pressed; the novel stands alone. While writing the first book one question kept nagging: what was Phillip Drake's story? Though invented as a device, an unimportant sub-character who only appears on a few pages, he became more interesting to me than many of my other characters combined.
While creating this antagonistic thorn in someone's side, as with many villains it became evident my reporter could be no two-dimensional personality. People seldom do things without reason; I had to discover my character's motivation. I started his story little knowing what a matted web would ensnare me. If it's hard to say when I last had as much fun as when writing Seduced by a Legend, then it's even more difficult to say when I last grew so frustrated by trying to work out a psyche or even psychosis. Perhaps to call it so is an exaggeration though the definition is: a severe mental disorder in which thought and emotions are so impaired that contact is lost with external reality. This appears to fit the misguided actions of my character: my whole story hinged on 'what was up with Phillip Drake?'
I'm pleased to say with research, protracted thought, and asking a few questions to a few well-informed people, the answers came, and with them my saviour in the form of Gary Caldwell … the love and lust worthy thorn in Phillip's side. It amused me to play with who was the most aggravating to whom. I edited the basic written story and submitted a book of which I was proud. When first published, it became the then editor's Top Pick and when looking for a new home was readily received by JMS Books with a cover we both agreed on, one representing Phillip unmasked in more ways than one. I've written many characters who have a special place in my life and heart but I'm so glad I could give Phillip Drake the story I felt he deserved.
When one man has the worst of reputations and believes any misfortune befalling him is deserved, it's hard to feel worthy of love. Can absolution arrive in three little words?
Journalist, Phillip Drake, is beginning to doubt the career he's chosen, his motivation, his whole existence. When an assignment arises to trail up and coming, and coming out, actor, Gary Caldwell, he's well aware it's his duty to dig for dirt … and when Caldwell seems less than co-operative, Phillip half-convinces himself he'll be happy to do so.
Gary has always been attracted to the reporter and finds it difficult to maintain a distance. Something is going on with Drake, not least of all the surprising revelation when Gary realises Drake is gay, and the attraction is mutual.
After an intimate encounter, Drake disappears and Gary sets out to unravel a mystery that not only involves tracking down the reporter's whereabouts, but may also explain why Drake has done the things he has, why Drake harbours more than a little self-hate and more than emotional scars, and why the one thing Drake doesn't believe he deserves — love — is the one thing he's worthy of.
START READING TODAY!
---