Filed under: Excerpts May 27, 2016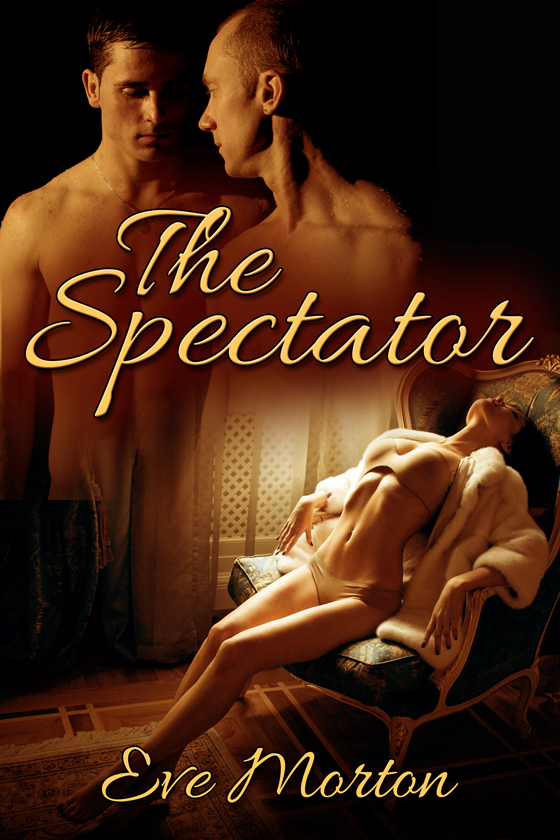 The Spectator by Francis Gideon is now available, and here's an exclusive excerpt from the story that you won't find anywhere else!
Blurb:
Regina is used to getting what she wants. When she meets Shane, the brooding art school grad turned ad exec at her PR firm, the two fall in love and get married right away. But five years into their marriage, Shane's frustrations only seem to grow and Regina tries everything to mend the relationship — new sex, vacation time, and long nights discussing their future.
Finally, when Regina suggests a threesome, everything seems to click. Shane surprises her when he says he wants to explore his bisexual side by inviting a man into their bed.
Together they frequent downtown Toronto and Regina's night classes to see if they can find the perfect man to join them.
When they meet a blond, Adonis-like stranger, they think everything's set. So why is Shane suddenly getting cold feet?
Excerpt:
When the waitress brought over more coffee, Regina topped up and tore open a sugar packet. They ate pie and got sugar highs, occasionally making small talk from work as they snuck looks at The Adonis and his date. When the stranger's phone rang, he excused himself. He walked outside the diner to complete his call. Regina watched him from the window as he gestured with his hands and spoke animatedly.
"Seems like a serious call," Regina said. "This may be our only time to talk to Adonis."
Shane nodded. He was supposed to be the one doing the proposition. And then, when it was time for Regina's part in the whole thing to come, she'd turn around and introduce herself. If they didn't manage to convince him tonight, then maybe by tomorrow they'd be fucking with Regina in the front row.
Hopefully.
Regina's heart sunk as the man from before came back into the diner. His brows were furrowed. He approached the Adonis with a sigh.
"I'm so sorry to run out. Work's called. Another case has come in."
Adonis's smile fell, but he nodded. "I understand, Gabriel. Talk again soon?"
"Yes, it was good catching up."
The two men rose and gave one another a hug. Only Gabriel left, leaving the still nameless Adonis figure at the booth. Regina turned to Shane, kicked his leg under the table, and made him go.
"Now or never," she mouthed. "I want this."
"Hello, hi," Shane greeted.
Regina pretended to be consumed by her iPad as the two of them interacted, only sneaking glances. She knew enough about Shane to tell he was nervous by the trill of his voice. Almost as bad as when he took her out to a concert and tried to flirt with her by shouting between the songs. She smiled at the memory.
"Hello. Do you need something?"
"Yes, but this is odd. Do you mind if I sit down? The diner is rather crowded and I just need a moment."
"Um. Sure."
The soft sounds of the leather followed as Shane slid across from the Adonis. If the guy knew that Shane had once sat in her booth, he gave no indication now of finding Shane's sudden musical chairs odd. In fact, Regina was sure she could detect a faint bit of interest in his voice.
"Thank you. I'm Shane."
"Nice to meet you, Shane. I'm Daniel." More shifting sounds, as if they were shaking hands. "Is there something you need, by the way? Just the seat?"
"A few things, yes. I have a rather odd question for you."
"If I'll go into the bathroom with you?" Daniel asked.
Shane stumbled on his next line. And Daniel caught it right away. Regina chanced a glance from behind her iPad. Daniel rolled his blue eyes as he combed a hand through his hair.
"Come on, married man. It's not the 1970s anymore. You know how to use a phone app, right? So get Grindr. I'm not interested in fooling around with a married guy. Been there, done that."
"I'm not … not exactly."
Regina rose from her seat and slid into the new booth with Daniel and Shane, leaving her pie and coffee behind. She and stuck out her hand. "Hi, Daniel. I'm Regina — his wife. No cuckolding at all."
Daniel regarded her hand, but didn't shake it. His blond hair and blue eyes seemed even more stunning this close — especially when he narrowed his gaze in a skeptical glance.
"No sandwiches. I'm not into that ether."
"That's not what we're asking," Regina said. "I understand that this is a little weird, though, so I appreciate you not throwing water in our faces and leaving."
"Pfft." Daniel folded his arms across his chest. The definition of his upper body became even clearer through his tight shirt. Regina had to calm her nerves, especially since this offer was meeting so much more resistance. If he had only shaken her hand, she may have been able to tell what type of man he was, and play him like she did everyone at her PR firm. But he gave her no mind, no attention.
He only stared at Shane, who had turned a new shade of red in embarrassment. Of course. Regina needed to figure out a new matrix of desire and new grammatical language before she could get anywhere.
"I know this is odd," she repeated. "But Shane's attractive, right? He's into you. I'm into Shane. So whatever Shane wants is good with me."
Daniel huffed again, but with less venom. After a while, he finally spoke. "You know how annoying it is to have someone think I owe them something because of who I am and what I like?"
"I do," Regina said. "I get it every day in my office. Because I'm a woman it means I'm available."
"Right … I guess. People always think I'm up for a fuck because I'm gay and I should take what I can get."
"You know why I like this diner? Because no one in here has ever told me to smile," Regina said. "And every day when I walk to work, there is at least one store owner who tells me I'd be so much prettier if I smiled. It's like constantly being hit on at bars and not knowing what guy is a good one, or what one will call me a whore after I say no. I'm always the one being looked at, so when I get a chance to do the looking back I'll take it."
"Even if it means someone else is the object?"
"If someone else consents, then yes." Regina turned to Shane. "And my husband is interested in you, like I said. He wants you."
"And you …?"
Regina smiled. She waited a beat longer than necessary to answer. "I want to watch."
---