Here's a sneak peek at Saturday's e-books! We have ebooks by Mychael Black, Kris T. Bethke and Nell Iris, T.A. Creech, R.W. Clinger, and M.M. Shapiro.
Descendant by Mychael Black
Gay Fantasy Erotic Romance, 10,517 words — $1.99
Get your copy today!
Andrew Blackwell is only one of countless humans who managed to survive post-World War III. Living in the shell of what was once New York City, he focuses on working hard and playing hard. Nothing else matters.
But fate has other ideas, and they arrive in the form of a rather surly angel who's been sent to find the one special human who can possibly help save humankind.
Thrown into yet another war, Andrew has no choice but to trust Mikhail … no matter where the angel may lead him.
---
Diving In by Kris T. Bethke and Nell Iris
Gay Erotic Romance (MMM), 34,032 words — $3.99
Get your copy today!
Preston and Sawyer Waters need a vacation in the worst way. Life stressors have gotten to be too much, and they need to reconnect. A month-long vacation at a cabin in the woods is perfect to remember how to enjoy each other. But they never expect to meet the man who would fit with them so perfectly.
Wade Johansson loves his life. Running V Wilderness Adventures with his best friends, spending his life on the water, and being surrounded by nature is his dream come true. But he's missing one key element: someone to love.
The three men find an instant connection and are quick to explore the attraction. It becomes clear immediately that they want a relationship lasting longer than just a vacation. But with Preston and Sawyer living in another town and Wade worried about how he fits, can they find the courage to dive in head first?
---
Expedition 63 Box Set by T.A. Creech
Gay Interracial Sci-Fi Erotic Romance Box Set, 112,256 words — $7.99
Get your copy today!
All three stories in T.A. Creech's best-selling M/M sci-fi romance series, Expedition 63, together in one box set!
When contact is lost with Mission Control, Commander John Dennington isn't overly concerned. Such hiccups in communication are common. The first inkling of the larger problem occurs when he sees the very shape of the world change before his eyes.
Contains the stories:
Book 1: Dusk:
John must ease his crew into a new mission and keep the Station together by any means necessary. The crew jeopardizes their chances by fighting his orders, but Jason Weiss, his mission specialist and the light of his life, makes John's situation more bearable. The smallest malfunction to Station or crew would spell the end for six astronauts trapped high above a ruined Earth. It's their mission to carry on. Random chance of the universe hasn't operated in their favor so far, but John is determined to see them all safely home.
Book 2: Dark: As the stranded inhabitants of the Space Station mark the opening of their second year since the world ended, Saito Naotatsu is determined to shake off some part of the grief infecting their temporary home. Maybe find a little happiness, too, with his best friend and communications specialist, Turlach Quinn. The situation explodes when Turlach finds his attraction to Saito confusing and relentless. At every turn, it seems Saito is there to break his control. With the Station falling apart around their ears and the crew breathing down his neck, Turlach finally has enough. Problems keep piling up. The crew is weary and waiting. Earth is a dark shadow of what it once was. Will they ever get home? Is there even anything left to go home to?
Book 3: Dawn: Yakecen Sinohui can see the end in sight for the stranded crew of the Station. Each breath is a countdown until they're able to return to Earth, until the poison clouds have cleared enough to leave. Though it's a bad idea, Yakecen is drawn into the orbit of their resident biologist, Eli, someone who has kept Yakecen's head in the game with his sunny presence. The universe, however, has one last middle finger to give the weary crew. Eli Palamo doesn't object to Yakecen's covert attention. He's pined for his friend from the first moment they met, and isolation has strengthened their bond as the hardships forced them lean on each other completely. Yakecen is all he's ever wanted. Nothing will be enough to tear them apart, if Eli has anything to say about it, not even Yakecen's own demons. Definitely not the end of their disastrous mission and their fight for survival.
---
Marine Handsome by R.W. Clinger
Gay Erotic Romance, 15,719 words — $2.99
Get your copy today!
When Gary Islip, a full-time writer for the e-magazine Guns & Target, meets the ex-Marine next door, things become interesting between the two men along Lake Erie in Pennsylvania.
As Islip spies on Keith Rutger, he becomes infatuated with the stud. Truth is, Islip thinks the ex-military man is beyond sexy … more like Marine Handsome. So how can he mind his own business and ignore Rutger? In short, he can't.
On hot summer nights, Islip can hear Rutger's fearful screams, obviously from nightmares. Islip soon learns Rutger has PTSD after serving in Afghanistan. Surprisingly, Rutger confides in Islip, explains his condition, and the two become friends. Islips start helping Rutger with the dilapidated Cape Cod, and also assists him during his nightmarish PTSD episodes.
When the summer ends, though, will Rutger head back to Maryland after a season in Lake Erie? Can they remain friends or, better still, move from friends to lovers?
---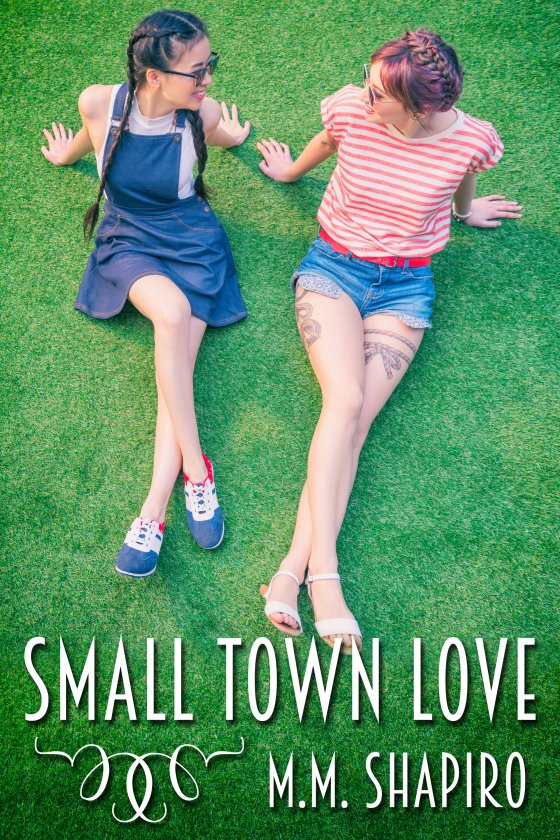 Small Town Love by M.M. Shapiro
Lesbian Interracial Erotic Romance, 20,047 words — $3.99
Get your copy today!
Gabby was born and raised in small town Bandon, on the southern coast of Oregon. At thirty, she's a cowgirl, volunteer firefighter, and out and proud lesbian. It's hard to find love with another woman in such a small town, but she loves Bandon.
After witnessing an accident involving a local town drunk, Gabby helps the arresting officer by going to the hospital to return the other driver's wallet.
The other driver is Aneko Watanabe, a computer programmer with a flexible schedule who's looking for a small town to move to. When the car crash sends Aneko to the hospital. Gabby goes there return her wallet.
Something sparks between them. As things heat up between the two women, Aneko moves to Washington state a job. Will the distance come between them? Or can they find a way to make things work?
---