Filed under: Coming Soon Mar 24, 2019
Here's a sneak peek at Wednesday's e-books! We have ebooks by Sharon Maria Bidwell, Deirdre O'Dare, H.D. Nels, and Kim Davis.
Angel Box Set by Sharon Maria Bidwell
Gay BDSM Erotic Romance Box Set, 110,793 words — $7.99¢
Get your copy today!
Sharon Maria Bidwell's best-selling gay romance trilogy is now available in a box set. From falling in love to finding forever, join Dean and Jay on the way to their happy ever after! Contains the stories:
Snow Angel: Dean likes women, but not nearly as much as he likes himself. Little does he know his friend Jay is in love with him, always has been, always will be, but he's about to find out. If Dean isn't careful, he might lose the one person who can take him just as he is, ego included.
Angel Heart: There's a reason Dean calls his lover Angel, but Jay's thoughts are far from angelic. He must stop his sister interfering in their relationship, and ask if Dean's remembered to pack the strawberry lube for the weekend.
Christmas Angel: True love's path seldom runs smooth. Dean Chapman built his life and reputation around being a womaniser. Until he fell in love with a man. Three years with his boyfriend, Jay, have upended the identity of which he was always so sure. To give the man he loves the commitment he deserves, Dean must lay his heart open to a future of possibilities, or risk losing everything.
---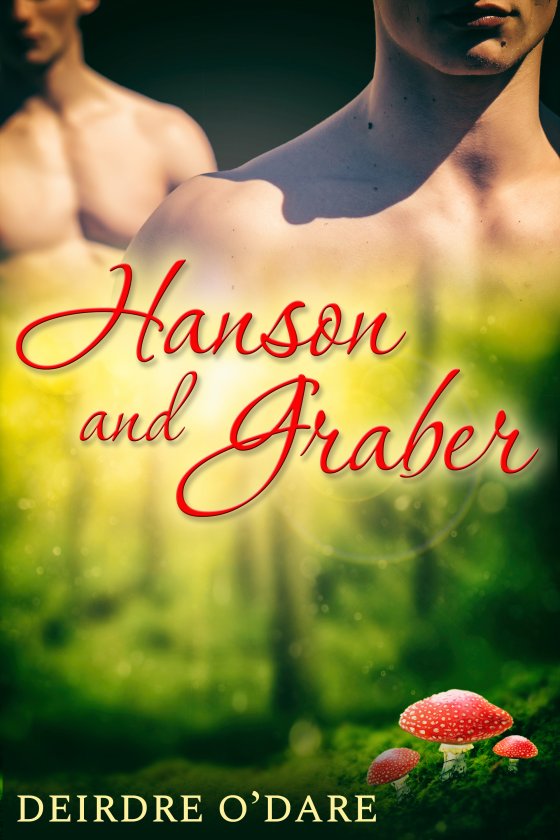 Hanson and Graber by Deirdre O'Dare
Gay Fantasy Erotic Romance, 15,160 words — $2.99
Get your copy today!
When life-long friends Hanson and Graber learn there may be a great wizard on the far side of the woods behind their village, they decide to seek him out. The source of the information may be suspect, but the lure proves too strong. In hopes of learning magic to rise above their current status as Hanson the Pigs and Graber the Firewood, they set out on this quest.
When they meet wizard Holzy, they're both intrigued and intimidated. He makes them labor and suffer, but eventually begins to teach them the practice he calls "the feat of the wand," which turns out to impart much energy and knowledge as well as unsuspected pleasures to both men.
A submerged attraction between them comes to the fore as Holzy awakens urges and desires they hardly even dreamed existed. But he keeps them entranced and bound to him. When Holzy makes a mistake, can Hanson and Graber apply their new powers to gain freedom from his spell and be acknowledged as his equals? Will they go home in triumph or be consigned to the salt mines?
---
Love, Again by H.D. Nels
Gay Erotic Romance, 16,290 words — $2.99
Get your copy today!
Dan Holstrom is a middle-aged widower who spent the past year wallowing in grief. His daughter is determined to get him out and socializing again, and to that end, she enlists her boyfriend, Bruce, a personal trainer at a gym, to coach her father. Bruce decides to involve his own father, Luke Fraser, to get Dan back among the living.
Luke Fraser is a gay man, a gym aficionado, and an all-around nice guy. When his son Bruce explains he has a new client who is a non-active bisexual man who withdrew socially after the death of his wife, Luke is intrigued and willing to help.
An attraction grows between Luke and Dan which slowly morphs into something more. However, Dan's insecurities cause the budding relationship to cool, and Luke is seen out and about with another man. Reluctantly Dan agrees to accompany Luke to Calgary, where the mystery man in Luke's life reappears.
Dan's ready to give up and go back to his semi-reclusive life. When a misunderstanding jeopardizes their relationship, is it too late to rebuild things between the two men?
---
Paper Anniversary by Kim Davis
Gay Romance, 3,440 words — 99¢
Get your copy today!
After serving as the best man at his father Tim's wedding to his long-time partner, Craig Pearson, twenty-year-old college student Nick Wattley is visiting San Diego to celebrate the couple's first wedding anniversary.
But the mood in the Wattley-Pearson household is anything but festive due to a disagreement between the couple over a seemingly innocent anniversary gift. Can Nick help his father and stepfather get their relationship back on track?
Note: This short story was originally published in the charity collection, Love Is Proud.
---